This roast beef and mushroom grilled cheese sandwich is a grilled cheese sandwich taken to a whole new level with the addition of mushrooms and onions.

I love grilled cheese sandwiches. Not only are the delicious they are also a quick and easy lunch or dinner.
Classic grilled cheese sandwiches are great. Just bread, butter, and cheese cooked to perfection. But I also love to change up grilled cheese sandwiches by adding meat, using different kinds of cheese, and things like mushrooms and onions. These things take grilled cheese sandwiches to a whole new level.
The version grilled cheese I am sharing today actually contains onions and mushrooms. I cook the onions and mushrooms until they are tender and slightly browned. They add so much flavor to the sandwich this way.
For the cheese I used provolone. You could easily use a cheddar or another kind of cheese, but the flavor of the provolone pairs well with the roast beef, mushrooms, and onions.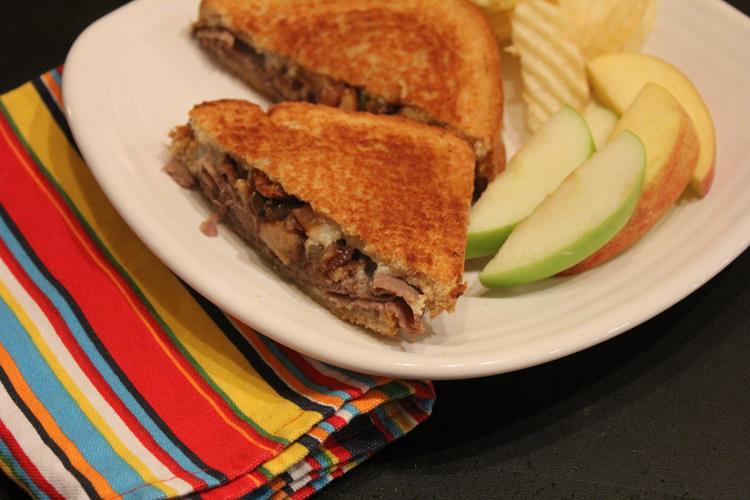 Roast Beef and Mushroom Grilled Cheese Sandwich
8 slices of bread
1 pound sliced or shaved deli style roast beef
1/2 pound fresh mushrooms, sliced
1/2 of an onion, thinly sliced
2 tablespoons oil
1 tablespoon butter, plus more for buttering the bread
8 slices of provolone cheese
In a skillet heat oil and butter until butter is melted.
Add onions and mushrooms. Cook over medium heat until the onions and mushrooms are tender and slightly browned. Remove from heat.
Butter one side of each piece of bread.
Place 4 pieces of bread on a griddle or pan with buttered side down.
Layer with one slice of cheese, meat, onion mushroom mixture, and then another slice of cheese.
Place another piece of bread on top with butter side out.
Cook over medium heat for 3-4 minutes. Carefully flip sandwich over and cook for another 2-3 minutes or until bread is toasted and the cheese has melted.
You can also use my tip for oven grilled cheese for cooking these. I love cooking grilled cheese in the oven!