This recipe is nothing fancy. It is a simple side dish that you can make in no time. These potatoes go perfect with meatloaf, hamburgers, chicken, and many other things. This recipe is basic, but we all need basic recipes that we can turn to and use when we are in a hurry.
If you are like me, you don't always have a lot of time to prepare dinner. Many days I struggle with just getting the main part of the meal on the table, and I have very little time to think of side dishes or things that go with the meal. When I have days like this, I need a quick and simple side dish to go with dinner. I need something that takes very little time. These potatoes work perfectly for me on those days.
These also reheat well, so I often make extra so that we have enough for lunch the next day. I have also taken these to church dinners or other potluck type meals.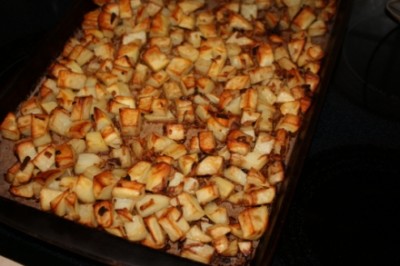 Roasted Onion Potatoes
4 – 5  potatoes, depending on the size
3 tablespoons of oil
1 envelope of lipton onion soup mix or use homemade onion soup mix.
Peel potatoes and cut into 1/2 inch or so chunks. Toss in oil and onion soup mix.

Spread onto cookie sheet or a similar type pan. We like these browned and crispy, so I cook them spread out. If you use a 9×13 type pan, you might want to use two of them.

Bake at 425 for 25-35 minutes or until potatoes are tender and browned.