Sorry this post has nothing to do with food. It is for my long time readers and my family and friends. I will back to kitchen related posts tomorrow.
I recently received a comment asking how our dog Roy was doing. I decided it would be a good time for a Roy update. If you are new to my blog, Roy is our German Shepherd puppy we got last August. You can read about that here and here.
Roy has turned out to be a really good dog. He has a nice deep, loud bark, which makes for a great watch dog. He does love to chew on things, but that is normal for puppies. He does love to catch mice, yes, mice. Roy and our other two dogs have become quite good at using teamwork to catch mice. Not the best habit for our dogs, but at least we don't need a cat.
Roy did not want to stay still for his picture to be taken, but we got a couple of okay ones.
Roy's ears now stand up most of the time.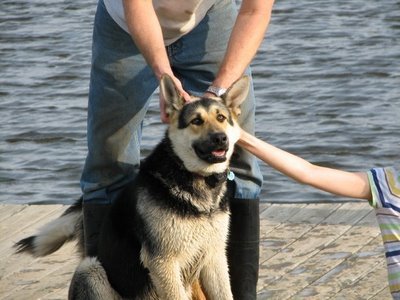 But sometimes they look like this
That is okay we love him anyway.