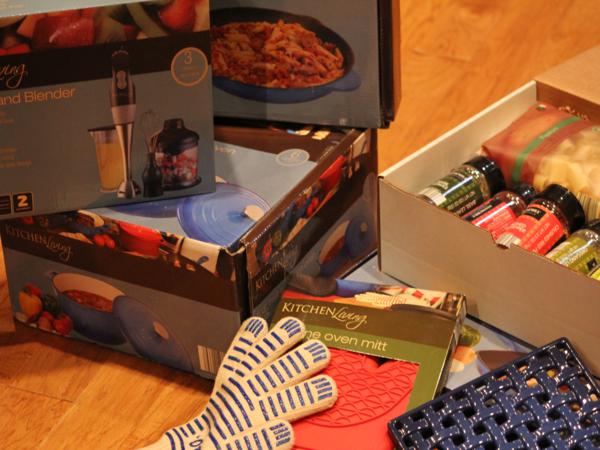 This is a sponsored post on behalf of ALDI, but all thoughts and opinions are my own.
One of the things I love to do is to share ways to help you save time and money in the kitchen. We are all busy, but we still need quick and easy family-friendly meals that don't break the grocery budget.
Because I love sharing quick and easy budget-friendly meals it was easy to say yes when I was contacted a few weeks ago about working with ALDI.
When ALDI first came to Oklahoma I was not really sure about them. I had heard good things about them, but I still was not sure what to think. And it took me awhile to even venture in to one of the stores. Once I did though, I was hooked. I instantly saw why everyone loved them and why it was a sure way to save money on groceries.
The produce prices are unbeatable. The prices on the strawberries and bananas to the green peppers and avocados are almost always lower than anyone else.
And the cheese – I love cheese. Really love cheese and ALDI has some great prices on cheese. And not only the regular everyday kinds – they often have specialty cheeses that I love to buy.
I can't talk about ALDI without talking about the chocolate. Shortly after I started shopping at ALDI I tried their chocolate candy bars and was amazed at the quality. It is their exclusive ALDI brand and it is good.
At some point we tried the chocolate bars with hazelnuts and were again amazed. My dad loves hazelnuts. I mean he really loves them.
He grew up in Oregon, which produces something like ninety percent of all hazelnuts grown in the US, so it is no wonder he loves hazelnuts. And a little hazelnut fact is that in Oregon growing up, we always called them filberts, not hazelnuts.
My dad has grown to love the ALDI chocolate hazelnut candy bars. The problem is that they don't have ALDI in Oregon, so we ship my dad chocolate. Yes, oh yes we do.
I can't even begin to count how many candy bars have made their way from Oklahoma to Oregon. Boxes of chocolate get shipped for birthdays, Christmas, Father's Day, and just about any other time I ship a box of anything to Oregon, ALDI chocolate is almost always included.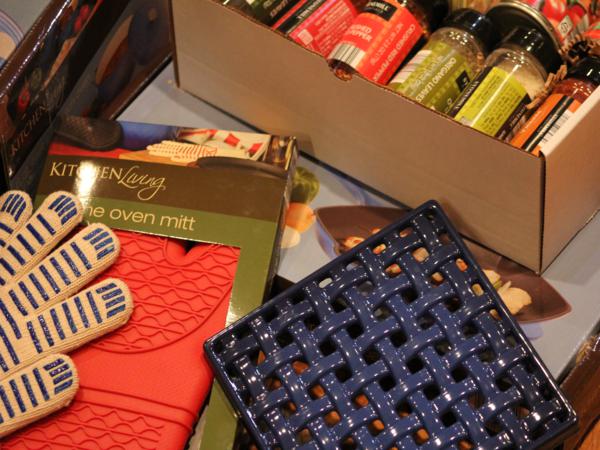 One of the great things about ALDI is that they have so much more than food. Each week they offer Special Buy products which often include things like toys and kitchen items. I was recently sent a few of their upcoming Special Buy products to try and I had so much fun experimenting with them.
Two of the items they sent me were a cast iron frying pan and a cast iron Dutch oven.
I love cast iron. I have a couple of pieces by that really expensive brand that everyone loves, so I was not sure what I would think of the ALDI version. Well, let me just say I was impressed, especially for the price.
Nothing cooks and browns onions like cast iron and this pan worked great for cooking dinner the other night.
And the cast iron Dutch oven worked great for a new pasta dish I made this week. The pans heat evenly and cleaned up well, especially for the price. I mean really you can't beat the price here.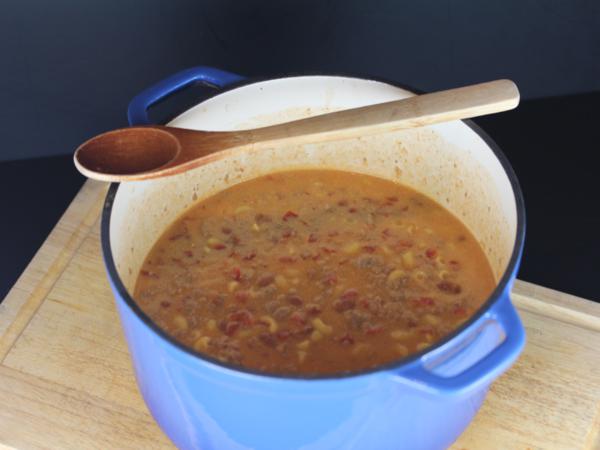 Here are a few of the weekly Special Buy products that ALDI has coming up. These Special Buy products are available starting on the dates below and are available while supplies last.
Special Buy items include:
Kitchen Living Two Speed Hand Blender, $19.99 – Special Buy beginning 11/13
Kitchen Living 6 Qt. Cast Iron Dutch Oven,$29.99 – Special Buy beginning 11/20
Kitchen Living Cast Iron Grill, $14.99 – Special Buy beginning 11/20
Kitchen Living Cast Iron Frying Pan,$14.99 –Special Buy beginning 11/20
Kitchen Living Heat Resistant Glove or Oven Mitt (2), $4.99 –Special Buy beginning 11/20
Kitchen Living Cast Iron Trivet, $4.99 – Special Buy beginning 11/20
If you shop at ALDI I would love to hear your favorite product or products to buy.
Be sure to follow ALDI on Facebook, Twitter, and Pinterest for more money saving ideas and tips.