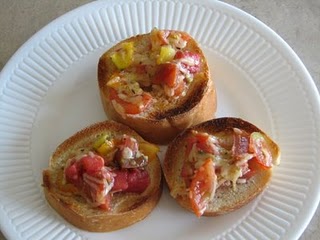 Right now we are picking a lot of tomatoes from our garden. Well, it seems like a lot. It is not enough to do a bunch of canning type things with it but it is enough we are eating them at almost every meal. I have tried several bruschetta type recipes over the years. Although they have been good I have not found one that we just love. I came up with our version of it. It is not exactly like a true bruschetta but we like it.
This is not exact measurements. I just add things here and there. You can really change this to your tastes.
French Bread or something similar
about 3 cups chopped tomatoes ( we grow different varieties, so I use whatever I have)
1 clove garlic minced
a couple of tablespoons olive oil, maybe 3 or so
salt
pepper
dried seasoning, I like to put just Italian seasoning, but just parsley, basil, or oregano would be fine
1/4 cup shredded Parmesan cheese (the real stuff, not the stuff in the green can)
Mix all together and spread on sliced bread and place on a cookie sheet. Broil for just a couple of minutes. You want to toast the bread a little and warm up the mixture. Watch this or it will burn. I speak from experience. Place on plate and serve.