After a few weeks off, I finally have another slow cooking recipe for you. And this is an easy and delicious one.
It is similar to a regular slow cooked bbq pork, but with an Asian flavor. We enjoyed this one its own with fried rice on the side, but you could also serve this over a plain rice with some of the juice it cooked in added.
The leftovers were also really good added to fried rice. So, really this is one of those recipes that you can do a lot with. I even think it would freeze well and I might try that next time.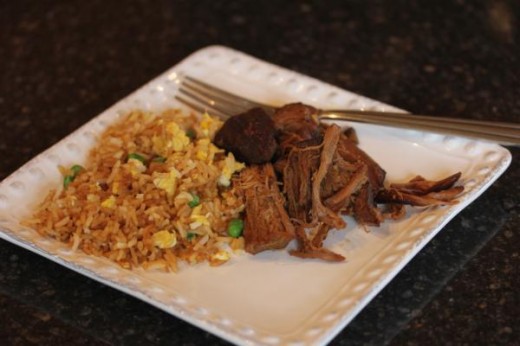 Slow Cooked Asian Barbecue Pork
3/4 cup barbecue sauce

1/4 cup soy sauce

1 teaspoon ground ginger

1/4 cup honey

1 clove garlic, minced

2 dashes sirachi hot sauce

3 tablespoons rice vinegar

2-3 pound pork roast, really just about any pork roast will work
Place roast in slow cooker.

Combine remaining ingredients and pour over roast.

Cook on low 7-8 hours or until roast is tender and done.

Shred roast and pour some of the cooking liquid over it.

Serve over rice or with a side dish of rice.