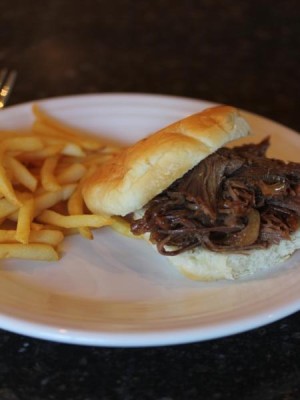 Today's recipe for Slow Cooker Monday is one of those why did I not think to try this before recipes. I make BBQ pork and BBQ beef all the time. It is quick and easy to make and the leftovers make a great freezer meal.
BBQ pork is one of my go to crock pot meals that I find myself making all the time, but I usually make them separate and use beef or pork. This time I decided to change it up and cook both at the same time.
I recently had two roasts in my freezer that I needed to use up. One was beef and one was pork. Neither one was a particularly nice cut of meat, so I knew slow cooking would work best for both of them. Low and slow does a good job of tenderizing cheaper cuts of meat.
I cooked it like I usually do, but I cooked both roasts at one time and I added onions this time to add a little more flavor. And what turned out was a delicious, but simple slow cooked BBQ dinner.
The flavors from the beef and pork combined made this so good. With two roasts it makes a lot of meat, but I like that because I love having BBQ leftovers.
We ate this the first night as sandwiches and then used the left over the next night just as shredded meat served with some side dishes. I love this because it is enough meat that you can cook once, but eat it for several nights. I love dinners like that.
Now, I did not write down the exact cuts of meat I used, but I know they were cheaper cuts. Really though I think you could use just about any type of roast that you have on hand or find on sale for this.
And the amounts are pretty basic on this, so you can vary them depending on the size of roasts that you have.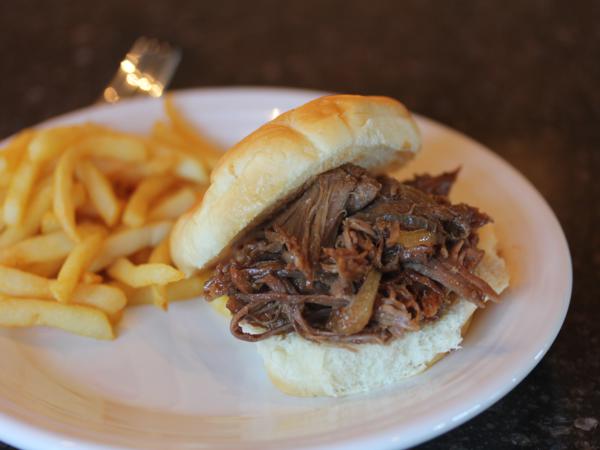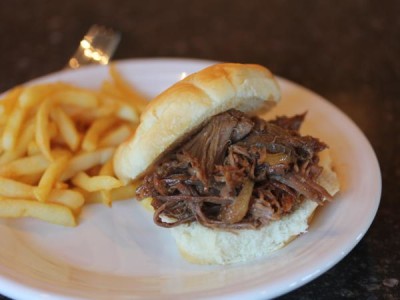 Slow Cooked Beef and Pork BBQ Sandwiches
1 1/2 – 2 lb beef roast
1 1/2- 2 lb pork roast
1- 1/2 cups bbq sauce
1 onion, sliced
Place both roasts in slow cooker.
Add onion.
Pour 1 cup bbq sauce over the top.
Cook on low for 7-8 hours.
Shred meat, adding more sauce as needed.
Serve on buns for sandwiches.