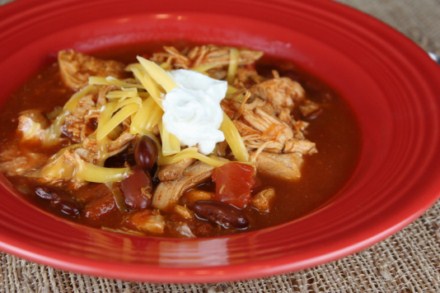 I have quite a few chili recipes on my site, but we eat chili often and I like variety. This is a newer version of chili that I came up with and we really enjoyed it.
It is a simple chili recipe, that is quick and easy to put together.
The main difference in this chili is that it uses fajita seasoning instead of your regular chili seasonings and V-8 juice for the liquid.
A few simple changes in ingredients, gave a basic recipe a new twist.
Slow Cooked Chicken Fajita Chili
2 cups cooked chicken
1 onion, chopped
1 clove garlic minced
20 – 25 ounces of V-8 juice
2 can black beans or kidney beans, drained and rinsed
2 ½ tablespoons fajita seasonings, I use my homemade version
2 cans diced tomatoes with green chili
shredded cheese for serving
Cook onion in oil until tender.
Add to crock pot with remaining ingredients. ( all but cheese for serving)
Cook on low for 3-4 hours.
Serve with cheese and sour cream. Enjoy!