Fruit topping is so delicious and so versatile. It is one of those things that you can use in so many ways or you can simply eat it by the spoonful. Or at least I often find myself eating it by the spoonful.
We love it on top of pancakes, waffles, ice cream, cheesecake, and even baked oatmeal. It is one of those things that just makes almost everything a little better. Well, ok maybe this would not be good on top of your favorite taco or lasagna, but you get the idea. Fruit topping adds flavor to so many things.
I decided recently to try making fruit topping in the crock pot. Fruit topping is not hard to make on the stove top, but I also like saving time and making it easier, so trying it in the crock pot seemed like a natural fit. I also thought it would work great for my Slow Cooker Monday series.
And it worked. This was really easy and turned out great. This does not have to cook long in the crock pot, so you can't leave it all day, but it will save you time because you don't have to stand by the stove and watch it.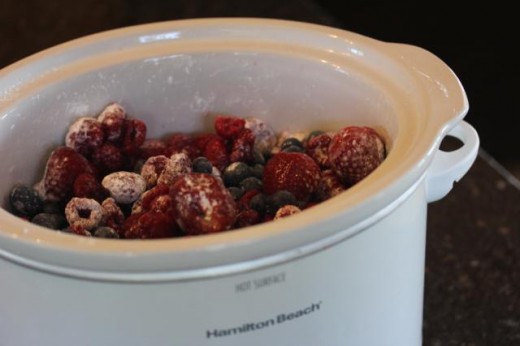 You can serve this warm right out of the slow cooker, but it will thicken as it cools, so I suggest letting it cool before serving.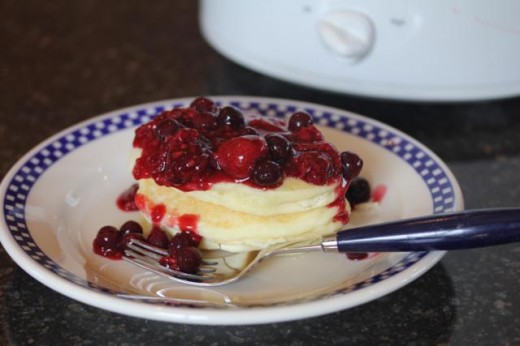 Slow Cooked Fruit Topping
5- 6 cups, berries

1/4 cup sugar- You can add more if you like it sweeter

1/4 cup cornstarch

1/3 cup water
Combine all ingredients into a small crock pot.

Cook on low for about 3 hours. If you use frozen berries it may take more than 3 hours and fresh berries may take only 2 hours. It depends on the size of berries you use.

Serve over pancakes, waffles, baked oatmeal, cheesecake, or ice cream.

This will topping will keep in the refrigerator for several days.