I need to start using my slow cooker more. I now have several days each week where dinner time is a bit crazy with trying to get everything done. My slow cooker works very well for these days. However, I am tired of my regular slow cooker food. It seems like it is all basically the same. I know that is not quite true, but I have been making many of my slow cooker recipes of years. I need some new things recipes for my crock pot.
I have been looking in cookbooks and online for recipes, but I have not seen a lot that I wanted to try. So, I am adapting other recipes to my crock pot. Adapting recipes can easily be done, especially with roast type dishes.
This recipe today is adapted from a Martha Stewart Everyday Food recipe. I took the basics that they used and made it work with the ingredients that I had and for my crock pot.
This turned out really well and I will be making this again. It was really easy to put together and it cooked all day. All I had to do was shred the meat and serve it.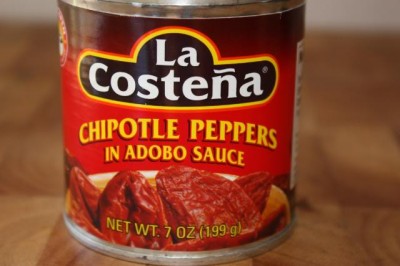 Slow Cooked Shredded Chipotle Pork Tacos
3 lb pork roast (I used a shoulder roast)
1 large onion chopped
3 cloves garlic
½ teaspoon thyme
¼ teaspoon oregano
6 ounces tomato paste
28 ounces of diced tomatoes
1 chipotle chile in adobe sauce, chopped finely (if you like it spicy use 2 peppers)
Tortillas
Cheese
Lettuce
Sour cream
Refried beans
Combine first 8 ingredients in a crock pot. Cook on low for 7-8 hours. Remove pork and shred. Pour some of the sauce over the meat and mix together well. Serve additional sauce with tacos for those that want a spicier taste. Serve on tortillas with beans, cheese, lettuce, etc.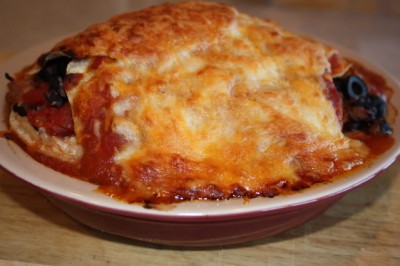 This recipe did make a lot for us, plenty for two meals, so it is a pretty frugal dish to make. Instead of serving it the exact same way the second day, I changed it up a little bit the second day by making it into a tortilla casserole (pictured above). It was not the prettiest dish I have made, but it tasted great. I just layered  meat, beans, cheese, and enchilada sauce with tortillas and cooked in in the oven for about 40 minutes.
For more recipes see Mouthwatering Mondays. For more frugal meals see $5 Dinners.