This is a sponsored post as part of my ambassadorship with Holland House, but all thoughts and opinions are my own. 
Many Thanksgiving dinners are large events with a table full of family and friends, but what if you are spending Thanksgiving by yourself, or with just your small family, cooking a large Thanksgiving meal may not be how you want to spend your day.
For most of our married life my husband and I have not lived near family. We lived in Oklahoma and all our family lived on the west coast. My in-laws moved back to Oklahoma a few years ago, but for many years my husband and I spent Thanksgiving all by yourselves.
A few of those years friends invited us over. Quite a few years I have invited people, that were like us and had no plans, over to our house for Thanksgiving, but many years it was just us for Thanksgiving.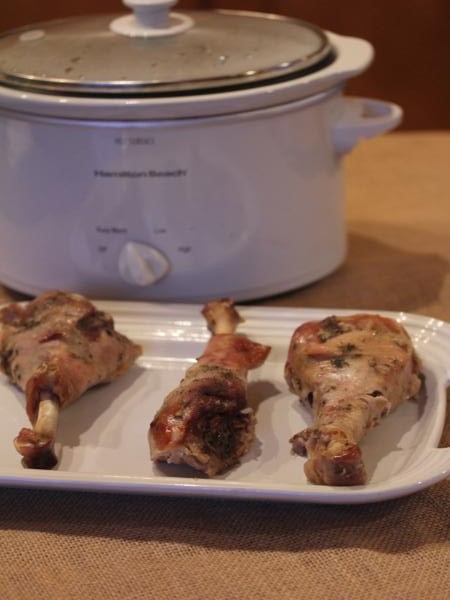 Even though it was just us, I always wanted it to still feel like Thanksgiving. However, since it was just us, a large turkey dinner just seemed like too much and too many leftovers, so I started buying either turkey legs or turkey breasts.
It worked great because it I was able to easily make turkey, potatoes, and gravy so we still felt like we were having a Thanksgiving dinner, but we did not end up with a ton of leftovers.
The recipe I am sharing today is an easy way to cook turkey legs and that is simply to cook them in the crock pot. I am also sharing a simple brine that helps keep the turkey moist and flavorful.
I keep the bring pretty basic with this and just use Holland House White Cooking Wine with Lemon, but you could easily add in some herbs or fresh lemons to this. You could also use Holland House White Cooking Wine, but I think the lemon white wine adds nice flavor to it.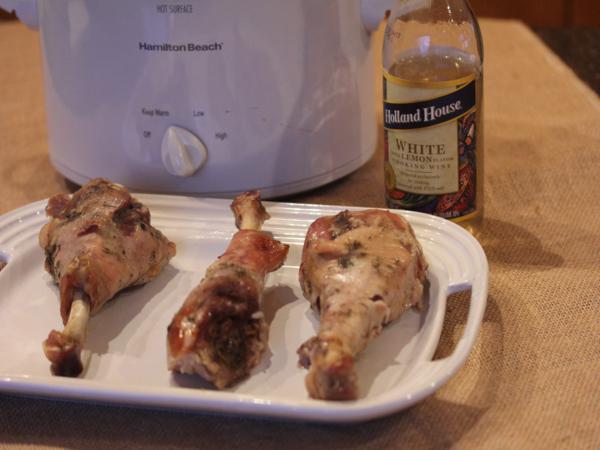 Slow Cooked Turkey Legs with White Wine Brine
1/2 cup Holland House White Cooking Wine with Lemon
1/3 cup salt
1/2 cup brown sugar
10 cups water
3-4 turkey legs
1/4 cup butter, softened
1/2 teaspoon ground oregano
1/2 teaspoon dried parsley
1/2 teaspoon seasoning salt
In a large pan bring water to a boil.
Add salt and brown sugar and stir until dissolved.
Remove from heat and add wine.
Let water mixture cool completely. This will take several hours.
Once cool add turkey legs to brine and place in the refrigerator for 8-10 hours or overnight.
Remove turkey from brine and rinse well. Pat dry with a paper towel.
In a bowl combine butter, oregano, parsley, and seasoning salt. Rub all over turkey legs.
Place turkey legs in crock pot and cook on low for 6-7 hours or until turkey is done. The time will vary depending on the size of the turkey legs.