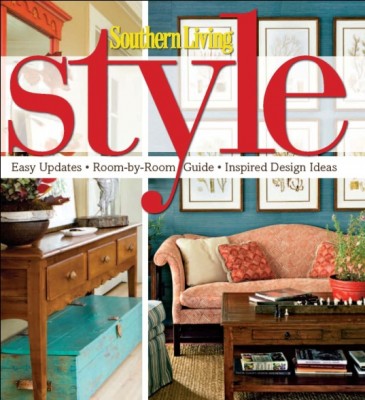 Giveaway Closed
kathy [email protected] is the winner. I have emailed you Kathy. Congratulations!
To say I love Southern Living Magazine is an understatement. Yes me, a girl born and raised in Oregon, and a transplant to Oklahoma, loves Southern Living.
I cannot remember how I first found Southern Living Magazine, but we have received it at my husband's office and/or home for years. It is a favorite both at home and the office.
Of course I love their food ideas and recipes, but I also love just looking through their magazines. From the garden ideas to the home ideas, it is a magazine I never get tired of looking through.
So, I was thrilled when I was contacted about reviewing Southern Living's new book Southern Living Style
. This is a book full of ideas for the home and I loved looking through it.
They talk about defining southern style, style on a budget, why things work, and how to reclaim it, which deals with turning old finds into something new.
And the good news is that not only did I receive Southern Living Style to review, Southern Living is giving away one book, to one of my readers.
To enter: All you have to do is leave me a comment. (But I would love to hear what you love about Southern Living.)
The giveaway will end Saturday October 1st at 6 pm CST.
If you are reading this by email you must click here and leave a comment on this post. Replying to this email will not count as an entry.
For more information please see my giveaway policy.
Disclaimer: I received a free copy of Southern Living Style to review, but my thoughts and opinions are my own.