GIVEAWAY OVER 
Piper is the winner with the comment
I havent tried Bush's Grillin beans but I will def try Steakhouse Southern Pit and Texas Ranchero would be to my husband's liking. Just the other day I marinated chicken in Worcestershire sauce/orange juice and rosemary/garlic seasonings….OH MY what flavor!!
You are in for a treat Piper. They are so good! I hope you enjoy trying them!
One of my favorite kitchen tools to use during the summer is not actually in my kitchen. Any guess what it is?
It is my grill. I love my grill and we use it several times a week at our house. I would say during the summer we use it several times a week, but really we grill almost all year long, not just during the summer.
We love to grill when we have company over, or for a holiday cookout, but the reality is that it does not take a special occasion or holiday for us to grill. We grill all the time.
And by "we" grill, I really mean we. I "man" the grill just as much as my husband at our house. My husband loves to spend time grilling and getting his steak or hamburger just perfect.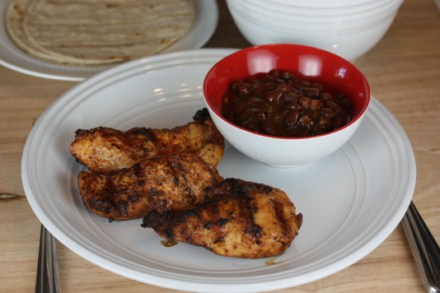 When I grill though I am all about quick and easy. Does that surprise you? Yeah probably not, since quick and easy recipes are pretty much all I make.
Today I have a quick and easy southwest grilled chicken for you that my family loves and I love how easy it is to make and grill. I make these as chicken strips, because they cook a lot faster that way, but really you could use this same marinade on any type of chicken and just adjust the cooking time.
This chicken goes perfectly with Bush's Black Bean Fiesta Grillin' Beans. The slightly spicy flavor of the beans pairs perfectly with the chicken, add in some tortillas you will have a meal your family will love.
And not only do I have a great grilling recipe for you today, I have a great giveaway from Bush's Grillin' Beans for you.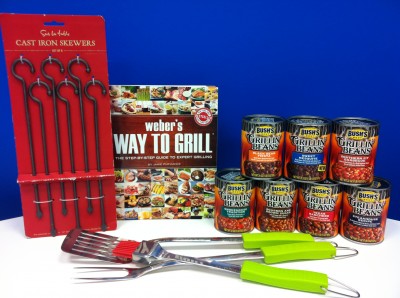 One reader will receive a grillin' kit that includes:
Weber's Way To Grill cookbook
Cast Iron Skewers, set of 6
Barbecue Spatula
Barbecue Fork
Barbecue Basting Brush
Bush's Grillin' Beans ( Coupons for 7 cans)
All you have to do to enter is leave me a comment, but I would love to hear what your favorite flavor of Bush's Grillin' Beans is. And if you have a favorite way or recipe to grill chicken, steaks, or chops please share that as well. I am always looking for new and fun grilling recipes and ideas.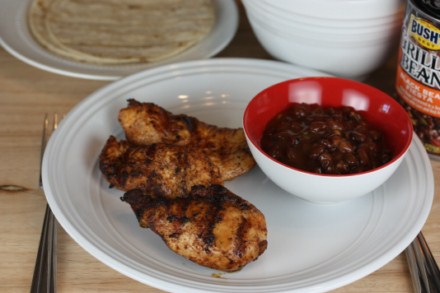 Southwest Grilled Chicken Strips
Serves 6
Prep time: 5 minutes
Cook Time 8-10 minutes plus marinading time
1/2 teaspoon chili powder
1 clove garlic, minced
1/2 teaspoon paprika
1/2 teaspoon salt
1/2 teaspoon ground cumin
1/4 teaspoon black pepper
1/4 cup oil
 1 1/2 pounds boneless skinless chicken breasts, cut into strips
8-10 tortillas
1 can Bush's Black Bean Fiesta Grillin' Beans
In a large ziptop bag or a shallow pan, combine the first seven ingredients and mix well.
Add chicken and marinade for 2-4 hours. Turning once or twice to cover well.
Remove chicken from the marinade and cook on a grill that has been preheated to medium high heat.
Cook for 4-6 minutes per side or until done.
Quickly lay tortillas on the gril for about 30 seconds per side. This is just enough to heat them up and brown them slightly.
Serve chicken strips on tortillas with Bush's Black Bean Fiesta Grillin' Beans on the side or on top.
Disclaimer: I have an ongoing relationship with Bush's Grillin' beans and am compensated for my time working with them, however my thoughts and opinions are my own.