One of the things I love about this time of year is that we can break out the grill again. Once spring weather hits, grilling dinner becomes a regular happening at our house.
It is never to early to break out that grill and start cooking and the weather here in Oklahoma has been perfect for grilling the last few weeks.
One of the things I love about grilling is that it keeps most of the mess outside, especially when entertaining. There is no need to dirty the kitchen or pots and pans inside. So, when I grill, I like to keep the side dishes simple, but simple side dishes do not mean that you have to compromise flavor.
One of my favorite side dishes to serve with grilled meat is Bush's Grillin' Beans. They have a great bold flavor and are quick and easy to serve. Plus my whole family loves them.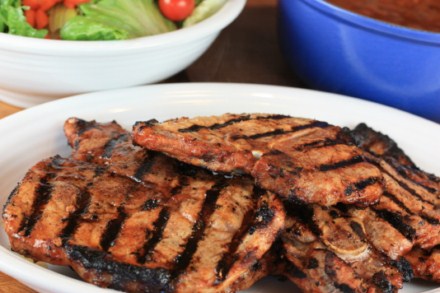 I decided that one of the first things that I wanted to grill this spring was pork chops. We love pork chops in our house and our favorite way to cook them is on the grill. So, a few weeks ago, when we had a beautiful spring day, I decided it was the perfect day for grilling pork chops.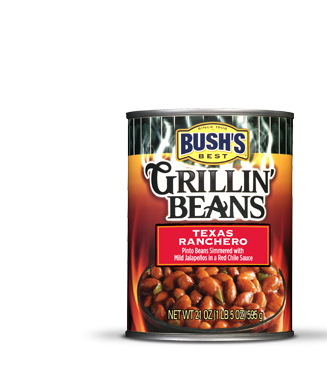 We love a little spiciness added to our food and these spicy pork chops that I have for you today, work perfectly with the slight spiciness of the Texas Ranchero Grillin' beans.
The Texas Ranchero Grillin' Beans are pinto beans simmered with mild jalapeno peppers in a thick red chili sauce and they match the spiciness of these pork chops so well.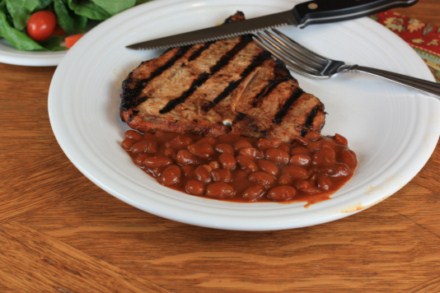 Spicy Grilled Pork Chops
Serves: 6
Prep Time: 10 minutes (Plus 2 hrs for marinading)
Cooking time: 12-15 minutes
Ingredients:
1/4 cup ketchup
2 tablespoons apple juice
2 tablespoons oil
1 tablespoons apple cider vinegar
1 tablespoon mustard
2 tablespoons Worcestershire sauce
1 teaspoon chili powder
1/2 teaspoon salt
5-6 pork chops (about 1 inch thick)
In a large resealable plastic bag mix together everything but the meat. Once mixed well add the meat. Turn a few times to cover meat.
Let marinade for 2 hours in the refrigerator, turning once..
Remove the meat from the bag and throw away marinade.
Place pork chops on a hot grill and grill over medium heat for 10-12 minutes, turning once. The amount of time may vary depending on the size and thickness of your chops.
Let sit 5 minutes.
Serve with Texas Rancheros Grillin' Beans and enjoy!
Note: I am compensated for my time in working with Bush's Grillin Beans, but my thoughts and opinions are my own. My family truly loves Bush's Grillin Beans and you can almost always find some in my cupboard.