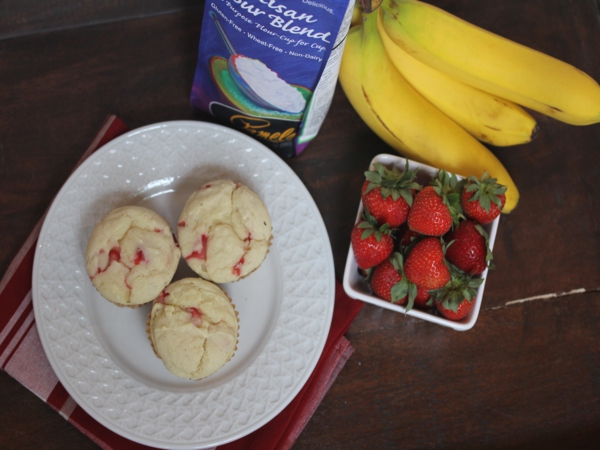 Strawberry Banana Pancake muffins are the perfect quick and easy make ahead breakfast.
One of the questions I get asked often about gluten free baking is what gluten free flour blend I like to use, so when Pamela's Products contacted me about working with their Artisan Flour Blend to come up with a delicious gluten free brunch recipe, I knew I had to give it a try.
I usually use individual gluten free flours, but I have also tried quite a few gluten free blends in the last few years. Pamela's blends though were ones I had never tried. I know many of my gluten free readers love them,  so I was very interested in using them in a recipe. 
When I thinking of what recipe I wanted to make, I instantly thought of pancake muffins. My family loves them. They are easy to make and freeze well for make ahead breakfasts, so I thought they would work well with this blend.
When I think of spring and early summer I always think of strawberries. They seemed like a natural fit for a spring brunch pancake muffin. The bananas were a last minute add in because I had a few sitting on the counter that needed used up. They worked perfectly and added great flavor.
These pancake muffins turned out great. The are basically a cross between a pancake and a muffin. The texture is kind of a cross between both. The bananas in these gave the pancakes muffins a soft, but delicious texture that my family loved.
I made a big batch of these and my kids ate them for breakfast for several days.
Long time readers know that I don't use a lot of flour blends, but I do keep them on hand for some things and for those times that I need to put together something really quick. This Pamela's Blend worked great in these pancake muffins and I think it would work well for all kinds of pancakes, muffins, and other breakfast treats. If you need a gluten free flour blend to keep on hand I think this one is a good choice.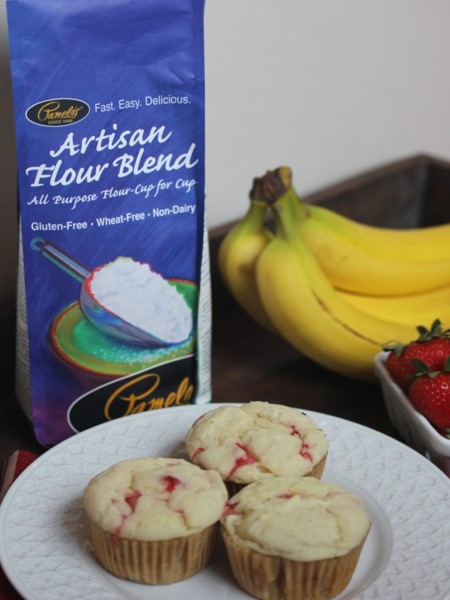 Strawberry Banana Pancake Muffins with Pamela's Artisan Flour Blend
makes 15 pancake muffins
2 eggs
4 tablespoons of butter, melted
2 1/2 cups buttermilk
2 tablespoons sugar
2 1/4 cups Pamela's Artisan Flour Blend
1/4 teaspoon baking soda
1 1/2 teaspoons baking powder
3/4 teaspoon salt
1 banana mashed
3/4 cup chopped strawberries
In a bowl whisk together the eggs, butter, and buttermilk.
Whisk in the remaining ingredients, except bananas and strawberries. Whisk just until combined. This batter will be a little lumpy.
Stir in mashed banana and diced strawberries.
Let batter sit for 5 minutes.
Scoop batter in to greased or lined muffin tin filling 3/4 full.
Bake at 350 for 22-23 minutes.
Serve and enjoy!
This post is sponsored by Pamela's Products but all thoughts and opinions are my own.