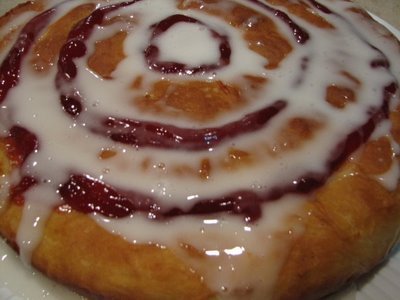 I think Tuesday has become my unhealthy post day. Unhealthy things are so much more fun to post about.
I have been making a lot of treats around our house. I do send a lot of them to my husband's office for his staff to enjoy. This recipe was one of those. It made a perfect treat to send to work with him.
I first read about this recipe on Bunny's blog. You can also find the recipe on the Crisco website. Yes, it has Crisco in it. I know unhealthy, but it makes this recipe have a flakier texture. So, I do splurge and use Crisco once in a while.
I thought this recipe sounded so good when I first saw it and it looked so good in Bunny's picture. But I don't' like cherries. I like fresh cherries, but not canned or preserved type cherries. So, I thought raspberry jelly would work well. It worked very well. I am sure the cherry version is very good, but we thought the raspberry was delicious. I think strawberry or blackberry jelly would work well also.
I though this recipe was kind of a cross between a coffee cake and a pastry. Some coffee cakes are dry and this one is not. It is nice and flaky and more pastry like. One thing I really liked about this recipe was that it made two cakes. This worked well for me because it gave me one to send to my husband's office and one to keep for us.
I hope you give it a try.
Swirl Coffee Cake
1 1/4 cups milk
1 teaspoon salt
1/4 cup granulated sugar
1/2 cup Vegetable Shortening
1 (1/4 oz.) package active dry yeast
3 1/4 cups All Purpose Flour
2 large eggs
1/2 teaspoon vanilla extract
1 cup Cherry preserves or raspberry jelly
1 cup powdered sugar
Milk
1/3 cup sliced almonds ( I left these out because some of my kids don't like nuts)
Heat 1 1/4 cups milk, salt, granulated sugar and shortening in small saucepan just to boiling; cool to lukewarm (105 to 115°F). Stir in yeast; transfer mixture to medium bowl.
Add one cup flour to milk mixture; beat well. Add eggs and vanilla; beat well. Stir in enough remaining flour to make a thick batter; beat until smooth. Let rise, covered, in warm place, free from drafts, until doubled in bulk, about one hour. Stir batter down.
Spray two 9-inch round cake pans with no-stick cooking spray or oil. Pour batter into prepared pans; let rise in warm place until doubled in bulk, about one hour.
Heat oven to 375°F. Make a swirl design on top of batter about 1/2-inch deep with a floured spoon; fill grooves with preserves, using 1/4 cup for each cake.
Bake until golden, 30 to 35 minutes. Remove from pans; cool on wire racks until warm. Fill grooves with remaining preserves.
Mix powdered sugar with enough milk to make thin glaze; drizzle over warm coffee cakes. Sprinkle with almonds.