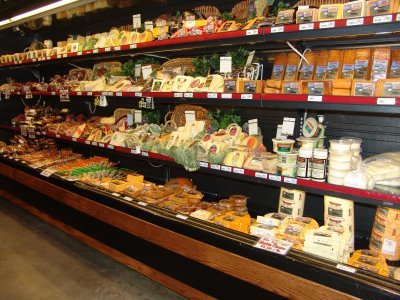 Saturday we went to an Amish store that is about 45 minutes from our house. I usually make a platter of cheese and crackers for our party. I like to use some unique and special cheeses when I do this. We usually buy the cheese at Sam's Club, but this year we decided to get them from the Amish Store. We had been there once before and really enjoyed their products. We ended up getting quite a few cheeses and some meat so that I could put together a nice cheese tray.
I loved going to this store. They have all kinds of neat food products. They sell a lot of unique canned goods along with some home made pasta noodles, soup mixes, and spices. Although I am sure these mixes and pastas are good, I think they are over priced. A lot of people were buying them though. I figure that a lot of these people would spend it at a restaurant for a bowl of soup, so why not spend it on a soup mix. I can see why people might buy products like this. A quick and easy way to get a really good bowl or soup or noodles. I think in some cases these would be worth it. I did enjoy just looking at all the homemade items.
This particular Amish store also has a bakery attached to it. I really enjoyed looking around in the bakery. They had some beautiful products including bread, pies, and cookies. The bakery was really busy and everyone was buying all kinds of baked goods. But these baked goods were expensive.
I am sure these products were good. They looked delicious. I also know that a lot of time goes into products like this. I know because I make them all the time. So I am not saying these products are not worth the price, but I could not believe how many people were buying these items. A loaf of bread was a least $4. I know compared to good store bought bread that is not that much more, but compared to making it at home it is really expensive. They also sold cookies, I can make cookies just as good and for much cheaper at home. And the pies, oh the pies looked really good, but $7 and up. Again, I know a lot of work goes into to making a good pie and you also have the cost of the ingredients, but $7, for a pie.
To be honest, I have no idea what a bakery pie costs anywhere else. I don't think I have ever bought one. I also never buy bakery cookies, so maybe people pay this everyday for these items. Maybe I just need to pay more attention to things. 🙂
When I was walking around this bakery looking at all the items and all the people buying them I just could not believe it. I really felt like walking up to one of the ladies and asking her if she knew that she could make those peanut butter cookies at home for much cheaper. I felt like telling her she should go home and make them herself. I could have even given her a recipe. 🙂
As we drove home from the store I really began to think. Do people just not know how to cook anymore? Do they just not like to cook? Do they just not have the time? People complain about not having enough money. So many people say they are struggling financially. Well, maybe they should realize that one of the first places to start saving money should be in the food budget. Cook at home, stay at home and eat, you really will save money.