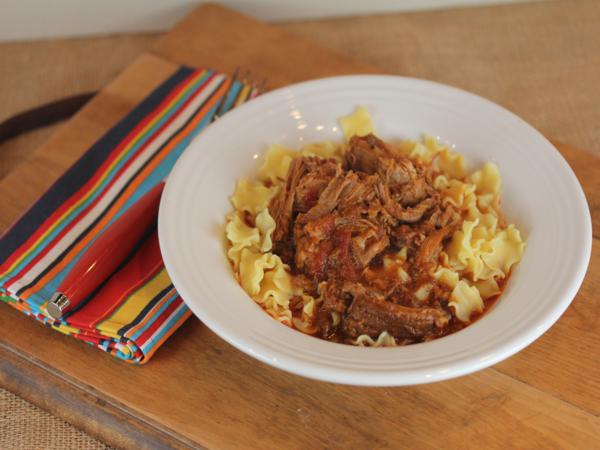 Note: This post is sponsored by Holland House, but all thoughts and opinions are my own. 
I love menu planning. I have almost six years of them in the archives of this site. I am a big believer that menu planning saves you both time and money in the kitchen.
However, I think there are times when spur of the moment, I have to figure out what is for dinner, requires me to be more creative. This week I had one of those times where it was good to be creative because it made for an easy and delicious new recipe.
Now, don't get me wrong, I am not giving up menu planning anytime soon, but I am glad for those times that force me think a little bit outside the box and use what I have
I am feeling so much better, although still not 100%, I am getting there. My girls have been doing a great job helping out in the kitchen, but one day this week I just wanted to put something in the crock pot that no one needed to worry about. However, I did not want to put a lot of thought or time into it. So, I looked at what I had in the freezer and got creative. Or at least a little creative.
When I opened the freezer I saw a roast sitting right on top. So, I took out a roast. That was easy to decide.
I wanted something a little more filling, and more of a complete meal, than what we had been eating, so I was thinking pasta or something I could serve over pasta. That means I needed a sauce.
I found a jar of pasta sauce in the pantry. That was also an easy decision. Now to doctor up the sauce. I love the convenience of a jar of pasta sauce, but I find the flavor a little lacking, so I was looking to add a little extra flavor to the sauce.
I could easily have added onions, mushrooms, etc., to add flavor, but I did not have any. I needed to add flavor, without much work or ingredients. I decided on some red cooking wine.
I always keep Holland House Cooking Wine on hand, both the red and the white. It adds so much flavor to so many things. This dish is a perfect example of that. A little wine made the sauce so much better. It added great flavor without any extra work. All I had to do was open the bottle and add it in. Easy.
And those are the three ingredients I used. Roast. Spaghetti Sauce. Cooking Wine. That is all.
We served it over pasta with a little cheese on top. Delicious!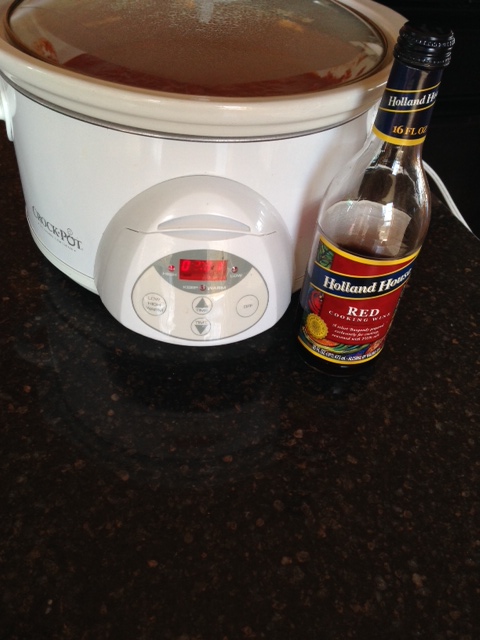 I know this really is not much of a recipe. It is pretty basic, but that is why I wanted to share this recipe with all of you. Cooking doesn't have to be complicated or time consuming. It can be easy and delicious.
This is not a gourmet or fancy meal. And as you can tell from the pictures, this really is not a pretty meal. This is simply an easy, family friendly meal that is perfect for busy days. It uses inexpensive ingredients that most of us keep on hand and we all need more recipes like that.
You could easily add some onions, mushrooms, or green peppers to this, but we thought it was great on it's own.
And I guess if you are counting the pasta and cheese make this five ingredients from start to finish, but that is still pretty basic.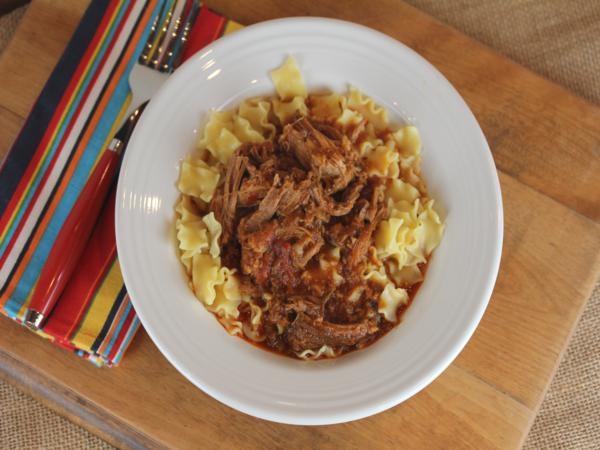 Three Ingredient Slow Cooker Recipe Italian Style Roast
Place roast, sauce, and cooking wine is slow cooker.
Cook on low for 7-8 hours or until roast is tender.
Shred meat and serve over cooked pasta.
This post is sponsored by Holland House, but all thoughts and opinions are my own.