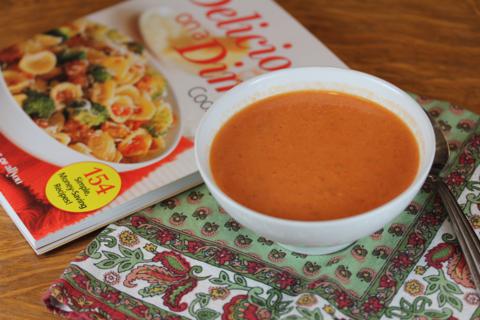 Last year I shared a recipe weekly for my Cooking Through My Collection Series, and I loved sharing those because it really helped me explore more recipes and use my cookbook collection.
With the holidays and all the other recipes that I have been posting, it has been awhile since I shared a recipe for that series, but today I have a new recipe for the Cooking Through My Collection Series. And this year I hope to continue the series, but instead of weekly, I plan to share one or two recipes a month with you.
Now on to the soup recipe.
Today's recipe comes from a the cookbook All You Delicious on a Dime
. This cookbook contains 154 budget friendly recipes. And not only are they budget friendly, but they are family friendly as well. These are recipes your family is sure to enjoy.
I received this cookbook to review last year and really enjoyed looking through it. One of the recipes that I knew I wanted to try was the Roasted Red Pepper Tomato Soup.
My family loves tomato soup, but I have never thought to add roast red peppers to it. It is a simple addition that adds so much flavor. If you like tomato soup this is a fun version to try.
Tomato, Basil,  and Red Pepper Soup
2 tablespoons butter
4 scallions, thinly sliced, (I used regular onions because that is what I had.)
1- 28 ounce can diced tomatoes
1  3/4 cup chicken broth
1 cup chopped, roasted red bell peppers, rinsed and seeded
3/4 teaspoon dried basil
salt and pepper to taste
3/4 cup heavy cream
Melt butter over medium low heat. Add onion and saute until onion is softened.
Add tomatoes, chicken broth, roasted red peppers, and basil.
Season with salt and pepper.
Increase heat to high and bring to a boil. Reduce heat and simmer, stirring occasionally, for about 10 minutes.
Remove from heat and stir in cream.
You can eat the soup as is, but if you like a smooth soup like my family does, puree soup in a blender or with a hand blender. If you use a blender be careful blended hot ingredients.
Enjoy!
Note; I received the cookbook Delicious on a Dime free to review, but my thoughts and opinions are my own.