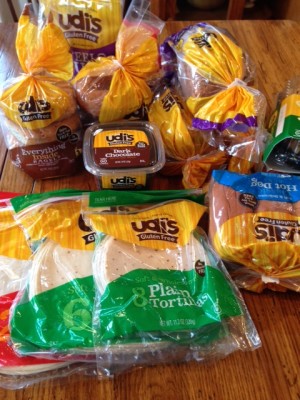 Note: This post is sponsored by Udi's Gluten Free, but all thoughts and opinions are my own.
Can you believe that Thanksgiving is next week? Yes it really is almost the end of November and the holidays are upon us. Which means busy schedules, holiday dinners, and traveling. And this time of year can be challenging when it comes to food allergies.
Three in my family eat gluten free and my oldest daughter has a tree nut, peanut, and sesame allergy. So this is an issue that we know and understand all to well. It doesn't matter what kind of food allergy or issue you deal with, the holidays with all the events and travel can be challenging, especially if you are new to gluten free or food allergies.
Today I thought I would share a few tips for dealing with holiday travel and food allergies. These tips really work any time of year, but holiday travel is what most of us will be doing over the next month or two.
Take Food With You When You Can
When we travel I always take as much food with us as I can. If you travel by car it is easy to load up a small cooler with food that is safe for you to eat. If you are traveling by airplane you can still manage to take quite a bit of food with you. My girls recently visited Washington DC with a friend and they took jerky, granola, homemade trail mix, granola bars, and other items that were easy to pack in their suitcases. It made the trip easier because they knew there would always be at least something they could eat.
If your travel only involves a short drive to visit family offer to take as much food as possible. Many dishes and items can be made and frozen ahead. Things like cookies, candy, casseroles, etc. can all be made ahead of time and taken with you.
Pack a Box of Gluten Free Cereal or Granola
This one is along the same lines as what I just mentioned, but the number one thing I always take when we travel is cereal. Either gluten free granola, some other kind of gluten free cereal, or both.
Granola and cereal works great for traveling for many reasons. It is easy to pack. It is inexpensive. And it is easy to eat almost anywhere.
If you are at a hotel that offers a free breakfast, a box of cereal allows the gluten free person, or person with food allergies, to always have something to eat. Most hotels that offer free breakfasts will have milk and fruit. Add this to your cereal and you have an easy safe breakfast.
A bowl of cereal can be eaten in a hotel room or car. You can eat it dry or buy a small single sized container of milk. This will work for breakfast, lunch, or dinner if needed. Just don't forget to pack a few disposable bowls and spoons as well.
It is also easy to bring out for the holiday breakfast and grandma's house when there is nothing safe to eat.
Dry cereal also makes an easy, semi healthy, snack on the go.
Having a bag of gluten free granola or box of gluten free cereal really has saved us so many times. It is my favorite food to bring when traveling.
Buy Convenience Items When Possible.
The holidays are a time for homemade baked goods and treats, but when traveling and visiting family is it not always possible to make that gluten free treat you love. Companies like Udi's Gluten Free and others make gluten free easy, especially when traveling. Gluten free cookies, muffins, bread, granola, and even cinnamon rolls are great things to buy this time of year.
This works great for times like when everyone is eating grandma's famous rolls or cookies. The gluten free person or child dealing with food allergies is going to be left out. Buying convenience items to take with you or for the person you know that needs them will make the holidays so much easier on them.
Don't Be Afraid To Ask Questions
If you are staying at a relative's or friend's house during the holidays, don't be afraid to ask questions. Ask what will be served. Ask what you can bring to help out. Offer to help in the kitchen. Not only do most people enjoy having help, it will help you know what is going on and what food will be safe to eat.
Educate. Educate. Educate.
Yes educating your family and friends about gluten free and food allergies is important. It is not always easy, but it is important. This is extra important if this is a new allergy that others are not familiar with.
If you or someone in your family is highly sensitive or has a life threatening allergy it is important to let everyone know how serious it is. If it is a young child with the allergy make sure others know not to offer them food. Talk about cross contamination and the risks.
I will be the first to admit that educating family and friends is not always easy. Not everyone will be understanding and helpful when it comes to this issue. I am sure we have all dealt with the family or friend who was less than gracious about having to deal with our food issues, but in general I have found that many do truly want to help keep us safe. So help educate them.
Plan Ahead
Planning ahead is my number one tip when traveling with food allergies. This not only applies to taking food with you, but in finding places you can eat. When we have a trip planned I always search restaurants and stores in the area. I map out places that are safe for us to eat or places that I can stop and buy food.
Planning ahead on this makes it so much easier when you are on the road and hungry. Or when aunt Sally wants to go out to eat for breakfast or lunch. If you have a plan you can easily say let's go here to eat today. Planning ahead and researching restaurants has saved me so many times.
Relax and Have Fun
So this one might seem pretty obvious. The holidays should be a time for enjoying family and friends, but that is not always easy to do when you have to constantly think about what you can or can't eat. By doing a few things like I mentioned above you really can enjoy the holidays.
I have only covered a few basics tips today, so I would love to hear your thoughts and advice for dealing with food allergies and holiday travel.
Learn more about living gluten free! Visit http://udisglutenfree.com/community
This is a sponsored conversation written by me on behalf of GF Kids & Family. The opinions and text are all mine.