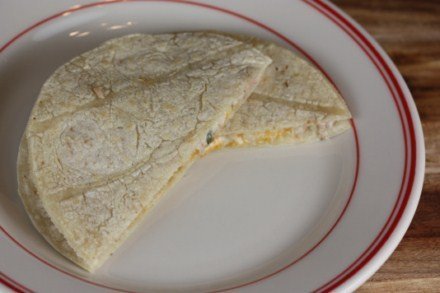 Lunch time is often boring at our house. Leftovers, rice cooker mac and cheese, and cheese quesadillas are often on the plan. So, in order to change things up a little I have been experimenting with some new lunch recipes.
I have seen several different recipes over  the years for tuna quesadillas, but had never tried them until recently. I did not really follow a recipe for this, I just  basically took what I use in a tuna sandwich and turned it into a quesadilla.
I was not sure how my kids would like this, but they ended up loving these. And I loved how easy they were to make and serve.
I think these make a great quick and easy lunch or dinner.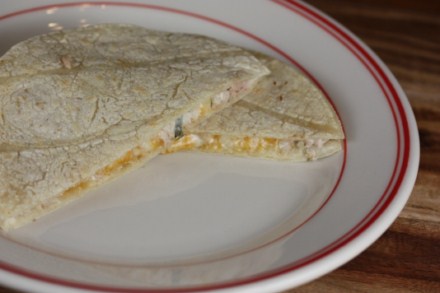 Tuna Melt Quesadillas
1- 6.4 ounce pouch of tuna ( You could use canned tuna as well, just drain well. )
2 tablespoons pickle relish ( You can leave this out if you like.)
1/4 cup mayonnaise
6 corn tortillas
1 1/2 cups shredded cheddar cheese
In a bowl mix together the tuna, relish, and mayonnaise.
Spread on 3 of the tortillas and sprinkle with cheese. Top with remaining tortillas.
Cook in a pan or griddle over medium heat until lightly browned and cheese starts to melt. This takes about 2 minutes.
Flip over and continue cooking until cheese is completely melted. This takes 1-2 more minutes.
Remove from pan and serve.