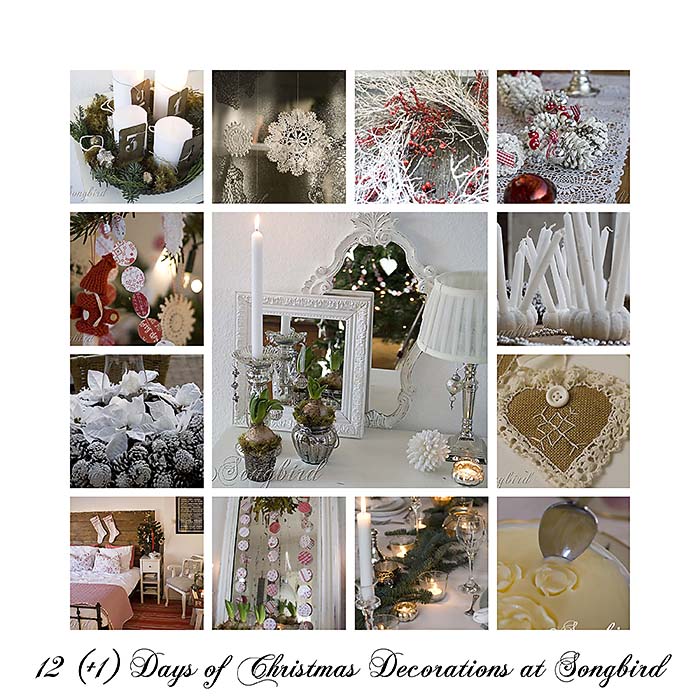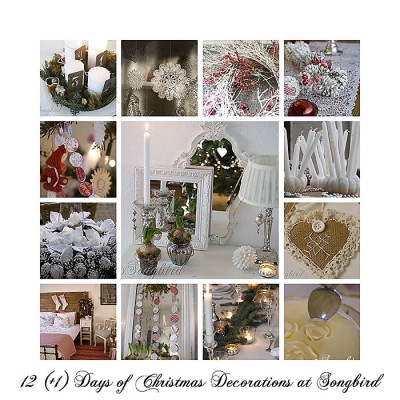 I hope you all have enjoyed the Twelve Days of Christmas Series. I have had so much fun sharing all kind of Christmas recipes with you. And I have really enjoyed working with a great group for this series.
If you need some decorating ideas you really need to check out Songbirds site. That picture at the top of this post is from her. Amazing! And if she lived closer I might just have her come decorate my house. Decorating is so not my talent. And what I love about the ideas that Songbird shared for the Twelve Days Of Christmas is that many of them are not just for the holidays, they would be perfect for all winter long. I know I will be visiting Songbirds site even after the holidays are over. I need all the help with decorating that I can get and her site is sure to be an inspiration.
If you are traveling for the holidays, or really anytime, you will find Amy's Travel Tips helpful. Traveling is not my favorite thing to do, in fact I really do not like to travel at all. But Amy shared some great tips that I am going to definitely use next time I travel. With her tips, I might not mind traveling so much.
We are all trying to save money, especially this time of year. Surviving the Stores shared some great ideas for saving money during the holidays. She covered things like saving money on gift giving, travel, wrapping paper, teacher gifts, and more. And Rachel has great money saving ideas all year long, including a Resturaunt Coupon Database that is a great place to find coupons when eating out.
The Happy Housewife shared some really fun homemade christmas gift ideas and the Twelve Days of Christmas was just part of her Homemade Christmas Gift ideas series. She is doing 100 homemade gift ideas leading up to Christmas, so be sure to keep check out all of her homemade gift ideas.
This is the time of year where healthy eating is hard. Everywhere we turn there is food and often it is unhealthy food, but Crystal shared many ideas for healthy eating during the holidays. In fact, Crystal makes healthy eating look pretty easy.
If you are looking for some Christmas Printables and/or ideas for Christmas crafts be sure to visit 1+1+1=1. She shared some great ideas for making the holidays fun for kids.
And Jessica focused on Family Fun for the Twelve Days. She covered gift giving, holiday book ideas, stocking stuffers, and more.
I really had fun working on this series. I hope you enjoyed it also.