On Tuesday I wrote about what happens when you do not follow a cookie recipe. Well, here is a picture of the molasses cookies when they are done according to directions.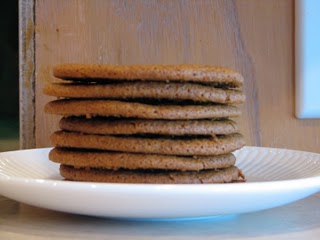 These are a thin but chewy cookie. I think the longer you refrigerate them the better they will turn out. So I would recommend at least 4-6 hours in the refrigerator or overnight. These are one of the best tasting molasses cookies I have made. I will be making these again.
Chewy Molasses Crinkles
1/2 cup butter (room temperature)
1 cup light brown sugar
1/2 cup reg. sugar, plus 1/4 cup for rolling
2 eggs
1/2 cup molasses
2 tablespoons oil
2 cups flour
1 teaspoon baking soda
1 teaspoon cinnamon
1 teaspoon ground ginger
1 teaspoon allspice (I left this out because my husband doesn't like it)
1/2 teaspoon salt
Put butter, brown sugar, and 1/2 cup sugar in a bowl. Mix together until smooth about 3 minutes. Mix in eggs one at a time. Then add molasses and oil. Gradually add flour, baking soda, cinnamon, ginger, allspice, and salt. Cover and refrigerate several hours or overnight. Preheat oven to 325 degrees. Roll about 1 tablespoon of dough into a ball. Roll into sugar to coat. Place about 3 inches apart on a cookie sheet. Bake for about 15 minutes or until centers are set.