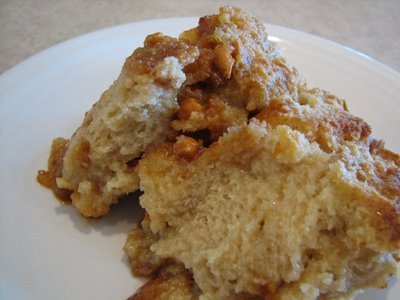 I don't think we are very good at using what we have. At least I know I am not. We in America let too much go to waste. We throw out a lot of food just because we think it is bad. When in reality it is probably still usable. We just have to change it up a little.
Most of our grandparents and great grandparents were great at this. They did not let anything go to waste. They were very frugal in this sense. This is why recipes like bread pudding were made. If you had bread that was a little dried out, you could use it. Milk that was not the freshest, it works fine in bread pudding.
Recently I found myself with bread that had expired. It was not moldy, but it was not the freshest either. I also had a few cups of expired milk. I am not sure how I ended up with expired milk, because we go through it pretty fast, but I did. I also had a cup of cream that I bought for a recipe that I never made and it needed to be used. I knew I wanted to make something with these things so that they did not go to waste. I immediately thought of bread pudding. It would be a perfect dessert to make.
I wanted to try a different bread pudding than I normally make. I searched online and found a highly rated one on allrecipes. It sounded so good. It had a few odd ingredients, like brown sugar and butterscotch chips. Usually bread puddings have white sugar, so I thought the flavor of brown sugar would be a nice change. I love butterscotch, so it sounded even better with it in it. I also had a package of butterscotch chips in my pantry that I knew I could use.
So, I gave it a try. This is the best bread pudding I have ever made. It was so good. If you like butterscotch you need to give this a try.
I love this recipe. It was easy and it used up what I needed too. Yes, it is not quite as frugal because of the chips and brown sugar, but it is still pretty inexpensive to make.
I ate way too much of this. Really I did. I will need to exercise more this week because of it. But it was worth it, it was that good. I hope you give it a try.
Butterscotch Bread Pudding
1 (10.75 ounce) loaf day-old bread, torn into small pieces
4 cups milk ( I used 3 cups milk, 1 cup heavy cream)
2 cups brown sugar
1/2 cup butter, melted
3 eggs, beaten
2 teaspoons vanilla extract
1 cup butterscotch chips
Preheat oven to 350 degrees. Butter a 9×13 inch baking dish.
In a large bowl, combine milk, sugar, butter, eggs, vanilla mix well and add bread and butterscotch chips. Pour into prepared pan.
Bake in preheated oven 1 hour, until nearly set. It should still be a little wiggly in the middle. You don't want to over bake or it will dry out. Serve warm or cold
For more frugal ideas and recipes see
Frugal Friday
and
Grocery Cart Challenge