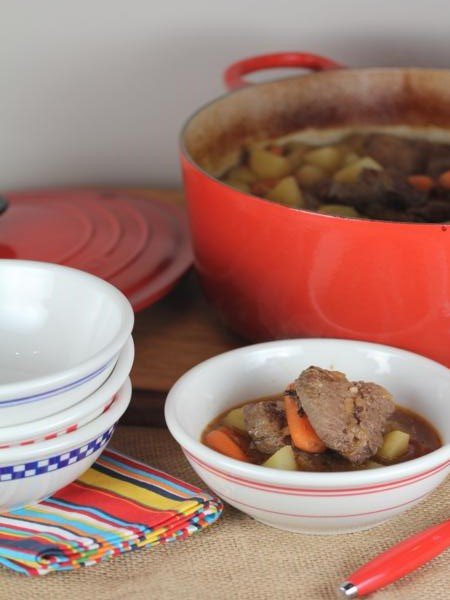 Venison Stew is a simple, hearty, basic recipe. A classic stew with a few twists like the venison and ingredients to help tenderize the meat.
As I mentioned yesterday I am starting to feel better, but my asthma is still not quite under control. It is getting there, but I am not 100% myself yet. Which means I am sitting around a lot, not doing much. Too much moving around means not breathing well and for now I am just going with it. Sometimes in life it is good to just slow down and realize what your body needs to recover.
All this slowing down though means I have plenty of time to do computer type work. I have been going through my pictures seeing what I have shared and what I have not, and am trying to get them better organized. If you ever wondered, bloggers and food writers have crazy amounts of photos. Really crazy amounts.
As I have been trying to better organize my pictures, I am finding quite a few pictures for recipes I have never shared. This is a good thing since I have not been doing much cooking. I really have no idea why I have never shared some of these. They are good recipes that I think just got lost in my huge picture files.
Today's recipe for venison stew is one of those pictures that I found. Now, I know why I have not shared this one. I have been hesitant to post it because it contains venison, also known as deer meat.
I grew up with a dad and many friends that hunted. My husband and all three of my kids hunt. Yes, even my girls hunt. I am the lone non-hunter in the family. So we often have a freezer full of venison. Much of it we get done into ground venison and I just use it in place of ground beef, but we also get some of the other cuts as well.
I always wonder about sharing venison recipes though because I am not sure how many of my readers have deer meat in their freezer. I know many of you don't have a family full of hunters like I do. I also know that although there are a few tricks to cooking venison, in general, it is not a lot different than cooking beef or other game type meat.
Since I found this picture though, and it is one of my favorite ways to cook venison, I decided it was a great time to share the recipe with you.
I think this recipe works well for two reasons. It cooks for a long time which tenderizes the meat. It also contains beer, yes beer. You really can't taste the beer, it just adds a little extra flavor. It's main job though is in tenderizing the meat. Beer is a great tenderizer which works well for venison which can often be tough.
And if you don't have venison in your freezer, you could easily use stew meat or another cut of beef for this. It would work just fine and be delicious as well.
I am not sure what cut of venison I used for the stew when I took this picture. Our venison is not always labeled the best. Sometimes it will just say steak or roast. Then when I defrost it, it is not always what I thought it was, but for this stew I think quite a few different cuts of venison would work fine.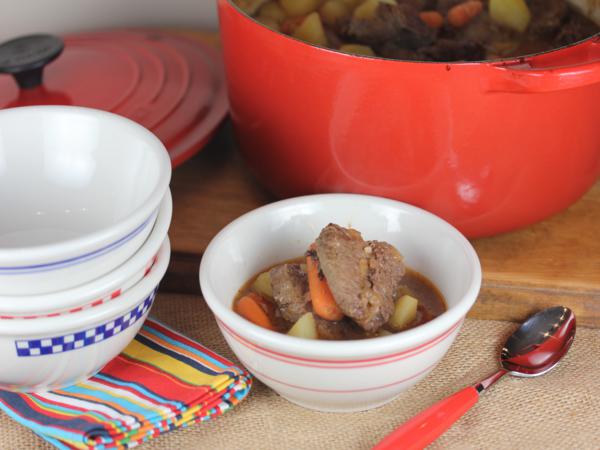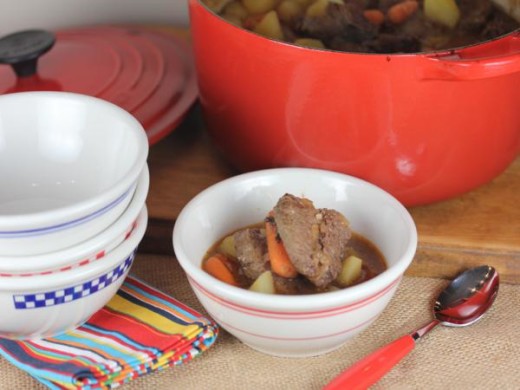 Yield: 8 servings
Venison Stew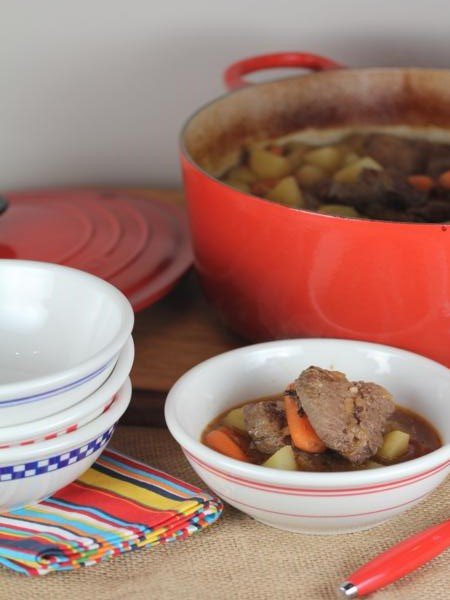 Venison adds so much flavor to your basic homemade stew.
Cook Time
1 hour
30 minutes
Total Time
1 hour
40 minutes
Ingredients
3 tablespoons oil
2 pounds venison, roast or steak cut into 2 inch or so chunks
1/2 cup flour or gf flour blend
1 onion, diced
2 cloves garlic
1 can beer ( Use a gluten free beer for gf version)
4 cups beef broth
1 tablespoon worcestershire sauce
2 tablespoons tomato paste
1/2 teaspoon salt
1/4 teaspoon ground black pepper
4 carrots, peeled and cut into chunks or use baby carrots
4 or 5 potatoes peeled and cut into chunks
Instructions
Heat oven to 350.
In an oven-safe pan heat oil.
Dredge meat in flour and then brown in oil. You will have to do this in batches.
When meat is browned add all meat back to the pan.
Add onions and cook slightly.
Add garlic.
Pour in beer and stir to loosen up browned bits on the bottom of the pan..
Stir in beef broth, Worcestershire sauce, tomato paste, salt, and pepper.
Cover and place in the oven for 1 1/2 hours.
Then add carrots and potatoes. Cover and cook for 1 hour more or until potatoes and carrots are done.
Nutrition Information:
Yield:
8
Serving Size:
1
Amount Per Serving:
Calories:

577
Total Fat:

16g
Saturated Fat:

5g
Trans Fat:

0g
Unsaturated Fat:

9g
Cholesterol:

155mg
Sodium:

712mg
Carbohydrates:

48g
Fiber:

4g
Sugar:

4g
Protein:

56g
Nutritional values are approximate and aren't always accurate.