Have you ever heard of Way Better Simply Spouted Snacks?
I had never heard of them until I was recently contacted about giving them a try. My family loves snacks and anyone that knows me knows that I love salty snacks. So, when I heard that they were a healthier type chip, and just happened to be gluten free, I was more than willing to give them a try.
When my box of Way Better Snacks arrived I was not quite sure what my family would think, because these are a healthy type chip after all. Sprouted, whole grain, seeds, and sweet potatoes are not exactly what my family thinks of when they think of snack food, but they were willing to try them.
The first bag I opened was the basic multi-grain chip. My husband ate a chip and looked at me, then looked at the bag, and said, "these can't be healthy they are too good." My kids said basically the same thing and went on to finish off the whole bag of chips in just a few minutes. That pretty much says how much they enjoyed them.
These chips really are that good. We were sent all the flavors to try and we loved them all. My husband really enjoyed the sweet chili chips. They have a nice spicy flavor to them.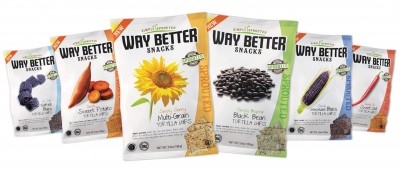 What I love about these chips is that they are a snack I can give my family without worrying about what is in them. Here is what the company says about them.
In keeping with our promise to remember to always be better, we use only simple ingredients which are necessary to produce a great tasting and nutritious products. No fillers. No preservatives. The kind of ingredients that you won't mind putting in your body. And they can all be easily pronounced!
Here are a few more words from Way Better about their chips.
Sprouting has been known to enhance the bio-availability of nutrients and aid in digestion
Every serving in them has an amazing amount (between 190 – 420mg) of healthy Omega 3 essential fatty acids. Compare them to other chips, then enjoy
Our Broccoli and Radish seeds contain sulphoraphane glucosinolate, the natural antioxidant found in broccoli
Each serving of our chips contain a whopping 17 grams of whole grains
You might be thinking, sprouted chips, what makes a sprouted chip so much better? Spouting helps activate the seeds and allows for better absorption and digestion.
If you would like more information on sprouting check out this video by Way Better Snacks. It explains sprouting way better than I can.
Note: I have been selected by Way Better Snacks to participate in their Brand Ambassador blogger program. While I have been compensated for my time, my opinions are my own, and I have not been paid to post positive comments.