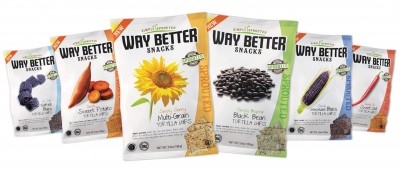 The longer I am gluten free, the more I am aware of what we eat. When you read labels on everything, it really makes you aware of the food you put in your mouth. And it makes me realize that there is so much more to learn about the food we eat.
Over the last few months I have really enjoyed working with Way Better Snacks and have learned so much about this company. They really care about their product. They want to offer their customers the best.
And yes they are gluten free and we love them! 
October is National Non-GMO Month and Way Better Snacks is celebrating because they are Non-GMO Project Verified. Way Better Snacks is giving away five (5) cases of Way Better Snacks Simply Sprouted Tortilla Chips. So that you can Eat Better. Live Better. Be Better. To enter this giveaway please click here and enter.
October is National Non-GMO Month. Now, the whole Non-GMO thing is kind of new to me. My friend Jessica and my sister have both shared with me some of what they have read in the last year about GMO's and their efforts to stay away from them.
I have several books on my to read list regarding the topic and I look forward to learning more about the subject.
I love learning about food and organic and GMO's are certainly in the news a lot lately, so I was glad to find out that Way Better Snacks Tortilla Chips are Non-GMO Project Verified.
Some of you may be asking what exactly this means. Because this is a subject I am still learning about, and because they can explain it much better than I can, here are a few thoughts from Way Better about organic and non-GMO Project Verified.

Is all organic food non-GMO?
To clarify, GMO avoidance is a central tenet of organic. Unfortunately, because of the increased proliferation of GMOs over the last 15 years, there is a growing contamination risk to all non-GMO crops, including organic. Organic products still have a much lower risk of contamination than conventional products, and the organic industry is working hard to keep organic non-GMO. What the Non-GMO Project does that the National Organic Program does not do is require testing and set action thresholds. These tools make it possible to exercise basic control over contamination, and give consumers reassurance that the most rigorous GMO avoidance practices possible have been followed for both organic and conventional products.
Can non-organic corn be non-GMO? Yes. Corn can be conventionally grown (non GMO), organically grown (non GMO), and conventionally grown (GMO). At this time approximately 88% of the U.S. Corn crop (as of 2011) is planted with GMO seed. While only conventional farmers can intentionally plant GMO corn, with the proliferation of GMO corn both conventional and to a lesser degree organic are at risk of GMO contamination. We go to 

great lengths

 to ensure that our corn is non-GMO. Not only do we purchase non-GMO corn, our products are verified by the Non-GMO Project—the only third party verifier of non-GMO food and products in North America. For our products to carry the Non-GMO Project Verification mark they must be in full compliance with the Non-GMO Project's standard. This means:
There is ongoing testing of all at-risk ingredients—any ingredient being grown commercially in GMO form (like corn) is tested prior to use in a verified product. This PCR test is conducted to make sure that the ingredient is non-GMO.
We have rigorous traceability and segregation practices in place in order to ensure ingredient integrity through to the finished product. To learn more visit: https://www.nongmoproject.org/learn-more/understanding-our-seal/
Verification is maintained through an annual audit, along with onsite inspections for high-risk products
Being aware of what we eat is so important in the gluten free life and learning about foods, and the way they are grown and produced, is a big part of being aware. Companies like Way Better Snacks makes living the gluten free life a little easier. And when they taste as good as Way Better Snacks Tortilla Chips do, it makes it even better.
For more information about Way Better Snacks be sure to "like" them on Facebook. And for some fun recipe ideas using their products, be sure to check out their Pinterest Boards. 
For more information on non-GMO month visit the Non-GMO Month website: www.nongmomonth.org
Note: I have been selected by Way Better Snacks to participate in their Brand Ambassador blogger program. While I have been compensated for my time, my opinions are my own, and I have not been paid to post positive comments.