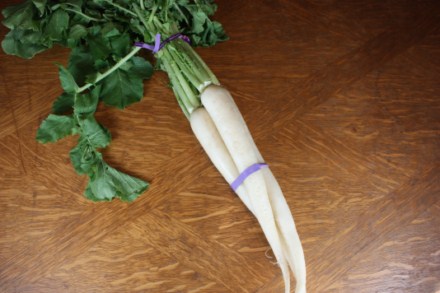 I loved reading through all your thoughts on my What Is It Wednesday post last week. It was so much fun to see what everyone thought the mystery food was.
The majority of you guessed either parsnips or daikon/white radish.
And those of you that guessed daikon or white radish were correct. A daikon radish is exactly what it was.
Daikon radishes are also known as a Icicle, Japanese, or Oriental radishes. They are common in Asia and are used in soups, stews, and stir fries. They are also often pickled or fermented.
Daikon radishes have also been used in some cultures for medicinal purposes.
We really liked the daikon radishes. It actually surprised me how much we liked them.
To me they tasted a lot like a regular radish, but milder. I do not normally like radishes, but I liked these because they were much milder than regular radishes.
I liked these thinly sliced in a salad. I thought they added a nice flavor and texture to salad. My husband and daughter liked them just raw and plain.
Because my family liked these raw and in salads that is how we ate them, but I will definitely buy these again to try in stir fries, stews, and soups. I think they would be really good that way and I look forward to experimenting more with these.
For those of you that knew what these were, I would love to hear how you serve them. Do you prefer them raw or cooked?