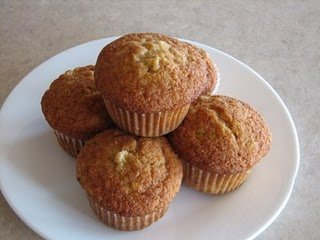 If you have been reading my blog long, you know that I have been trying to make my recipes healthier, mainly by adding whole wheat. This is one of the recipes I have adapted that turned out really well.
I have found that in items like muffins and cookies, whole wheat pastry flour really works better. It is a lighter, softer wheat. I have been getting much better results when I use the whole wheat pastry flour in these items. This recipe turned out so well using whole wheat I am going to try whole wheat in several other muffin recipes that we enjoy.
My kids loved these for breakfast or for a snack.
Whole Wheat Banana Muffins
3/4 cup whole wheat pastry flour
3/4 cup regular flour
3/4 cup sugar
1 teaspoon baking powder
1/2 teaspoon baking soda
1/4 teaspoon salt
1/2 cup butter, melted
1 1/2 cups mashed bananas
2 eggs
3/4 teaspoon vanilla
Preheat oven to 350 degrees. Line muffin pan with liners.In a bowl mix flour, sugar, baking powder, baking soda, and salt.Mix in butter, mashed bananas, eggs, and vanilla. Stir just until incorporated.Spoon better into muffin pan.Bake 25-28 minutes or until done.Cool completely.
Makes 12
This recipe adapted from a Martha Stewart Recipe.
Note: If you do not want to use whole wheat in this recipe you can use regular flour.