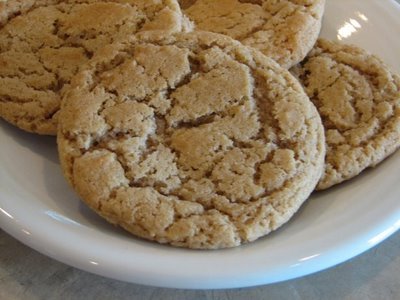 My son loves cinnamon, anything cinnamon. He loves cinnamon toast, cinnamon bread, cinnamon rolls. You get the idea.
He enjoys snickerdoodle cookies. I enjoy them too, but I wanted something a little different. So I tweaked my favorite snickerdoodle recipe to come up something a little healthier. This recipe uses whole wheat flour and incorporates cinnamon into the batter instead of rolling the dough into balls and then in cinnamon and sugar.
These are really good and my son loves them. They work for me because they are healthier than most snickerdoodles.

Whole Wheat Cinnamon Cookies
1/2 cup butter, softened
1/2 cup shortening
1 1/2 cups white sugar
2 eggs
2 teaspoons vanilla extract
1 1/4 cups whole wheat flour
1 1/2 cups all purpose flour
2 teaspoons cream of tartar
1 teaspoon baking soda
1/4 teaspoon salt
2 teaspoons ground cinnamon
Preheat oven to 400 degrees F
Cream together butter, shortening, sugar, the eggs and the vanilla. Blend in the flour, cream of tartar, soda, salt, and cinnamon. Scoop spoonfuls onto greased cookie sheet. Place 2 inches apart on ungreased baking sheets.
Bake 8 to 10 minutes, or until set but not overcooked. Remove from baking sheets. Enjoy!