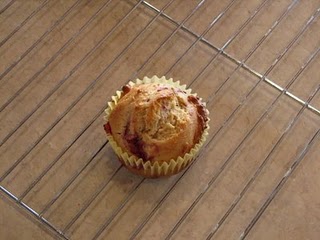 I wanted to do a healthy recipe today to show you that I have not given up on trying to eat healthier. I decided to join in on Nourishing Gourmet's portable healthy food challenge. These are healthy and they work great for lunches.
I really have been cooking healthier, especially for our main meals, even though my recipes and posts have not shown it. I am really working on breakfast and lunch. It has been slow going and I have not had many interesting things to post for healthy ideas. I have been using more whole grains and experimenting with them. Experimenting is the key word. Cooking with whole grains seems to be a lot of experimenting. Some things work and some things don't!
If you read my blog regularly, you will see that we still have a long way to go. I have not given up baking desserts. This is one area I am doing poorly in. I just love to cook and bake to much to go healthy on them. Whole wheat in desserts just does not work the same. I do post a lot of desserts but we really do not eat all of it. I send quite a bit of the items to work with my husband. His staff loves to have cookies sent to the office.
So, that is a healthy eating update that is not very exciting. I have found a whole wheat muffin recipe that we really like, so I decided to share it today.
I like to use raspberries or blueberries in it. The recipe says to let the batter sit for an hour. I find it works best to sit overnight. It helps soften the whole wheat and it gives the muffins a better texture. I wish I could claim that I came up with this recipe on my own, but I can't. This recipe came from King Arthur Flour Whole Grain Baking Cookbook. I love King Arthur Flour recipes, they work really well.
King Arthur Sour Cream Muffins
2 cups white whole wheat flour ( I have used whole wheat pastry also)
1/2 cup unbleached all-purpose flour
1 1/2 teaspoons baking powder
1/2 teaspoon baking soda
1 teaspoon salt
4 tablespoons unsalted butter
1 cup sugar ( I am sure that some of you that use other forms of sugar could figure out what to use here. If you have any ideas let me know)
2 large eggs
1 teaspoon vanilla extract
1 cup sour cream ( I have also used plain yogurt)
1 1/2 cups fresh or frozen berries or diced stone fruits (such as peaches or plums) of your choice
Instructions
Lightly grease a muffin tin, or line with papers and coat the papers with nonstick spray. Whisk together the flours, baking powder, baking soda and salt in a medium bowl. Cream together the butter and sugar in a large mixing bowl until light and fluffy and almost white in color. Scrape down the bowl to make sure all the butter is incorporated, then turn the mixer back on and add the eggs, one at a time, beating well after each addition. Add the vanilla and sour cream, and mix until incorporated. Add the dry ingredients, mixing on low speed just until the batter is smooth. Scrape the sides and bottom of the bowl once more, to be sure everything is evenly combined. Gently fold in the fruit and refrigerate at least an hour. ( I think this is best if it sets overnight).
Preheat the oven to 400°F . Scoop the batter by the 1/4-cupful into the prepared pan. Bake the muffins until a cake tester inserted in the center comes out clean, 22 to 26 minutes. Remove from the oven and allow the muffins to cool in the pan for 5 minutes, then turn them out onto a rack to finish cooling.