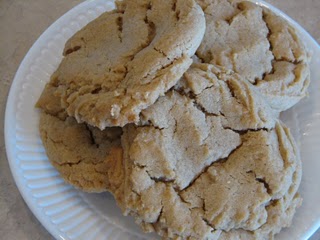 In my quest to cook healthier my main goal it to use more whole wheat. Some things may not be very healthier, but I am still trying to include whole wheat in the recipe.
These Peanut Butter Cookies are a good example of that. They are not necessarily healthy in fact they have 1 cup of shortening in them, but they turned out very good. My kids had no trouble eating these up.
Whole Wheat Peanut Butter Cookies
1 cup shortening
1 cup peanut butter
1 cup brown sugar
1 cup white sugar
3 eggs
1 1/2 cups whole wheat flour
1 1/2 cups all purpose flour
2 teaspoons baking soda
1/4 teaspoon salt
Cream first four ingredients. Add eggs one at a time. Beating well after each addition. Mix dry ingredients together and add to creamed mixture. Roll into balls. Flatten slightly. Bake at 350 degrees for 10 minutes.