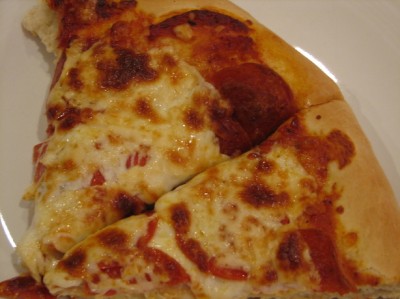 We usually eat homemade pizza at least once a week. It is a simple, frugal, and kid friendly meal.

Whole Wheat Pizza Crust
1 Tablespoon yeast
1 cup warm water (110-115 degrees)
1 teaspoon sugar
1 teaspoon salt
2 Tablespoons oil
1 1/4 cup whole wheat flour
1 1/4 cup all purpose flour
1 tablespoon dough enhancer (optional but helps when cooking with whole wheat)
Dissolve yeast in water. Stir in sugar, oil, flour, salt, and dough enhancer. Mix, beat, and knead well until dough forms. (I do this in my kitchen aid stand mixer). Let rest 15 minutes. With buttered or greased hands press into baking pan about 15×10 size. I use a Pampered Chef stone. Top with sauce and toppings of your choice. Bake at 425 for about 15 minutes or until crust is done and cheese is melted.