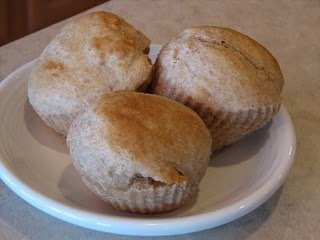 Right now I am really trying to incorporate more whole wheat into our diet. I am adjusting and changing recipes. I am doing a lot of experimenting and some things work and some things don't.
I have found a few whole wheat bread recipes that I like. I have one that makes really good sandwich bread. But I was getting tired of just bread, so I am now experimenting on some other things, like muffins and rolls. One of the recipes that I have made using 50% whole wheat flour is Spoon Rolls. I was not sure how it would turn out, but it worked really well. I think the best way to describe it is part muffin and part roll.
We really liked these, and I will be making these a lot. They are really easy and you can make them ahead of time.
I do have a question for you. Has anyone made their own version of self rising flour using whole wheat or whole wheat pastry flour? If so how does it work? If no one has tried it, do you think it would work?
Spoon Rolls
This is best when it is made at least 12 hours ahead of time.
2 ½ teaspoons of yeast
2 cups warm water
12 tablespoons butter, melted
¼ cup sugar
1 egg, beaten
2 cups whole wheat flour
2 cups of self rising flour
1 tablespoon of dough enhancer (optional)
Dissolve yeast in water. Mix in butter, sugar, egg, and 2 cups flour. Mix well and than add remaining flour. Beat until well blended. Refrigerate for 12-24 hours. Remove from refrigerator about 30 minutes before baking. Preheat oven to 400 degrees. Grease muffin tins, spoon batter into muffin tins, filling about ½ full. Bake for 15 minutes until done. Makes about 24 muffins.
Adapted from a Hodgson Mill recipe.
For more Kitchen Tips see Tammy's Recipes.