Years ago, before I was married, I used to work for a cleaning company. The company I worked for cleaned high end homes on the west side of Portland, Oregon. These were nice home. Many of them were street of dreams homes.
The owner of the company trained me. She was a perfectionist, and she required all her cleaners, including me, to be the same. I know how to clean and how to clean well. I know what products to use and how to use them right.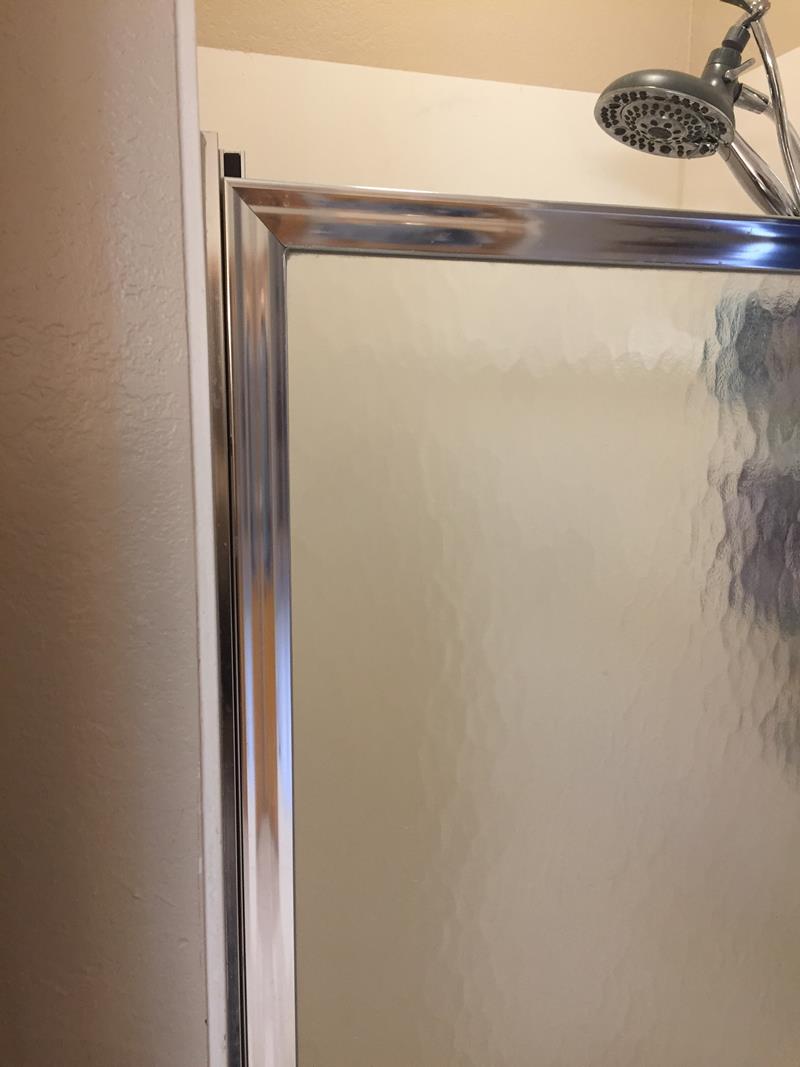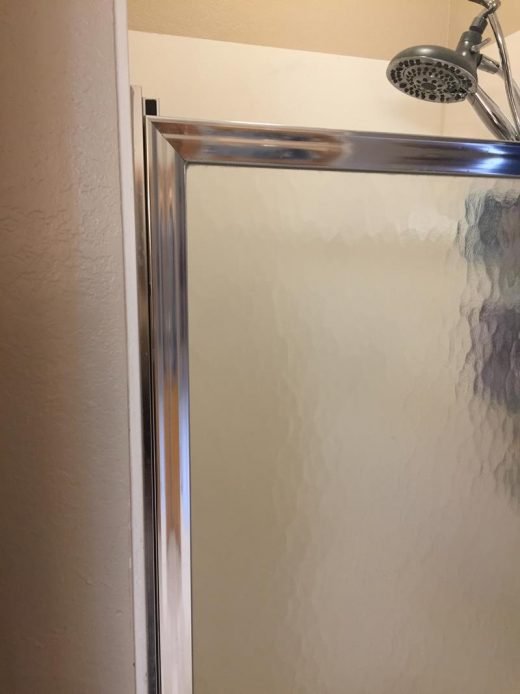 I will admit though that occasionally even cleaning takes a back seat. Like recently when I went two months without cleaning my shower.
Life can be crazy and as much I as I love a super clean house, I gave up on it a long time ago. Three kids, three business, animals, and life in the country don't exactly make cleaning a house easy. I have settled on keeping a clean, but lived in house. It is a nice balance of my desire for everything to be clean and the realities of life.
The other reality of our life is that two of my kids and I have asthma. My daughter and I have it severely. One of the things that has always set us both off is strong smells. We have to be very careful what we use when it comes to things like cleaners, detergents, and soaps because most of them have very strong smells.
Over the years I have tried so many different cleaners in order to find something that works for us. It needs to clean well without setting off our asthma. I have wanted to find something more natural, but it has been a challenge.
One of the problems is that natural doesn't always mean the smell is okay for us. Strong smells, even natural ones, can bother us. We have to be careful of even the more natural cleaners.
I have found several more natural cleaners that we can use, but my problem is that they don't usually clean well. They clean okay, but not great. I would still have to occasionally go back to the regular chemical filled cleaners for a deep clean and to get that dirt and grim the natural cleaners didn't get.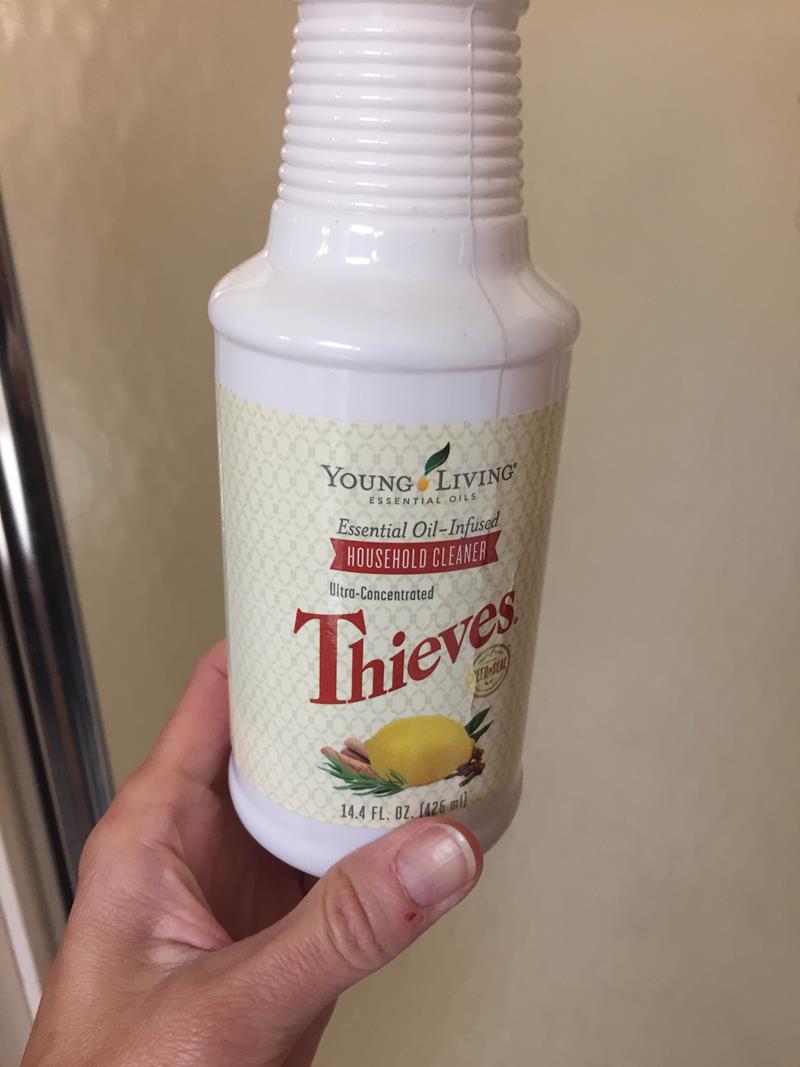 I couldn't find a cleaner that was more natural, had a scent we could tolerate, and that cleaned well long term. That is until I discovered Thieves Cleaner.
Seriously this cleaner works! It is my new favorite cleaner. The more natural cinnamon non-chemical smell is great. And it works. (Note: I am a distributor for Young Living. I make a commission when you make a purchase, but I truly love and use these products and have been using them for four years)
I first tried Thieves cleaner a few years ago and I will totally admit that I wasn't thrilled at first. I loved the smell and it didn't bother my daughter and I to use it. However, I had mixed thoughts on how well it cleaned. I finally loved it though when I ignored the directions on the bottle for mixing it.
Thieves cleaner is a concentrate. You mix different amounts for different jobs. The problem is the amounts didn't work well for me. Or maybe my bathrooms are just dirtier than other peoples bathrooms. Either way once I mixed it up stronger than the bottle said to do I LOVED it.
For most things I use about twice the amount that the bottle says. However, the bottle of concentrate still goes a long ways. (The bottle says 1 part cleaner to 30 parts water for most jobs. I use closer to 1 part cleaner 15-20 parts water for most things.)
The way it cleans is amazing! And it is more natural! No strong chemical smells.
I now go months without cleaning my shower. Yes, months. I just simply spray it down everyday. No scrubbing and no rinsing. I spray it down and go. It does all the work.
Even my husband, who has a tendency to be skeptical of natural cleaners and products, has been amazed at how well this cleans things like our shower. Our shower is cleaner now than it has been in years. This stuff works.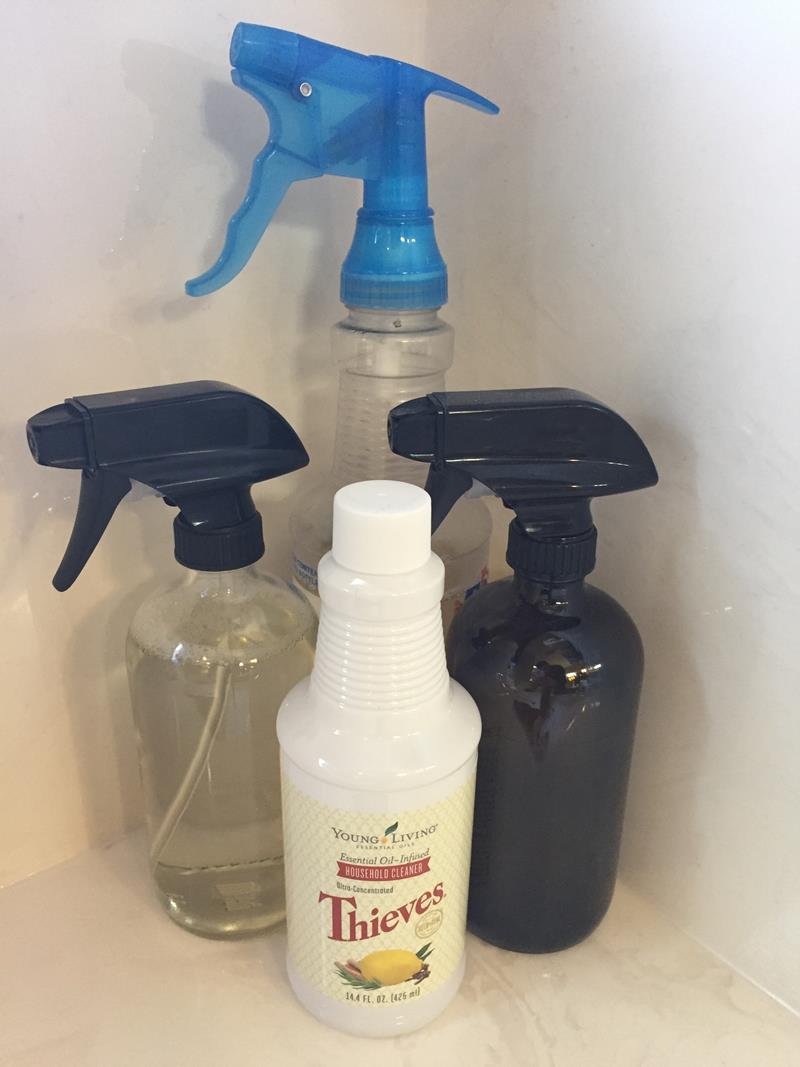 I keep a bottle in the shower for my daily spray down of the shower. I keep a spray bottle of it in my kitchen on the counter. I have a bottle I use for mirrors and another bottler for regular cleaning.
The reality is that I don't use a ton of oils. There I said it. I have been using Young Living products since 2013, but I don't use a ton of oils. What I do use is their Oily Products. I can't imagine life without Thieves. That is how much I love it.
Remember a few minutes ago when I mentioned two of my kids and I have asthma? It is the reason I tried and fell in love with Thieves cleaner. It is also the reason I don't use a lot of essential oils. Yes, I know it sounds confusing, but really it isn't.
Strong smells bother me. Both natural and chemical. Essential oils are natural. People love them. I love them. But I have to be careful which ones I use. The smell of some of them is so strong it bothers me. I have learned what I can and can't use. I stay away from the ones that bother me, and use the ones I love.
I add that disclaimer because I want to keep it real. I love the fact that Young Living provides natural safe products for my family. I love their quality and seed to seal process, but there are some of their products I don't use. In fact, I can't use them. But the ones I can use I LOVE. LOVE them! I will share soon more about the other Young Living products that I love!
So if you have tried oils and not loved them, I encourage you to try them again, but maybe try a different oil or product instead. And try Young Living. There is a reason Young Living are what I use. Young Living has hundreds of oils and products. If you aren't really into diffusing oils, but love natural cleaners. Give Thieves cleaner a try. Or one of their many other products.
For me Young Living is not just about oils, it is about the all the great products they offer to help our overall wellness.
From Thieves cleaner to supplements to Sports Creams to cooking with Vitality oils, I use them in so many ways. And the reality is that I use the products, like the cleaners, way more than I use my little bottles of oils. Because they work! They really do work.
Are you interested in trying Thieves or Essential Oils?
You can buy Thieves cleaner and other Young Living products retail, but the best deal is to buy wholesale. Think Sam's Club or Costco. (If you sign up, I get a commission. I want to be clear on that. I am a distributor for Young Living, and I appreciate your support of what I do. But I wouldn't talk about these products unless I really loved them.)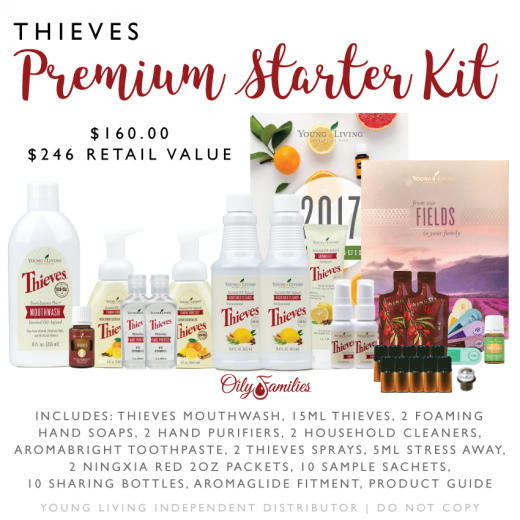 I LOVE the Thieves Starter Kit. If you want to try Thieves, it is a great place to start. You get great Thieves products and a wholesale membership for one price.
You get wholesale prices on Young Living products and only have to order $50 a year in Young Living Products to keep your membership active. That is it.
If you sign up for a Thieves starter kit this month I will send you a glass spray bottle that is perfect for using the Thieves cleaner, plus a peppermint oil, and a lemon oil, which are two of my favorite oils because I can use them for so many things.
Not interested in the Thieves cleaner, but want to give essential oils a try? The Starter Kit that has a diffuser and eleven oils is a great place to start. If you order the starter kit this month I will send you a lime vitality oil and an orange vitality oil to try out along with your starter kit and starter kit oils.
If you have any questions please email me! I will be glad to answers any questions that you have! [email protected]
Note: I am a distributor for Young Living, but I only share products and things I love. The reality is that I have used Young Living since 2013, but I have rarely shared about it. But the more I use and love their products the more I realize that I want other people to love them too. I will also add that I am not a doctor or a health professional. Results may vary and please do your research and use products that you feel are safe for your family.