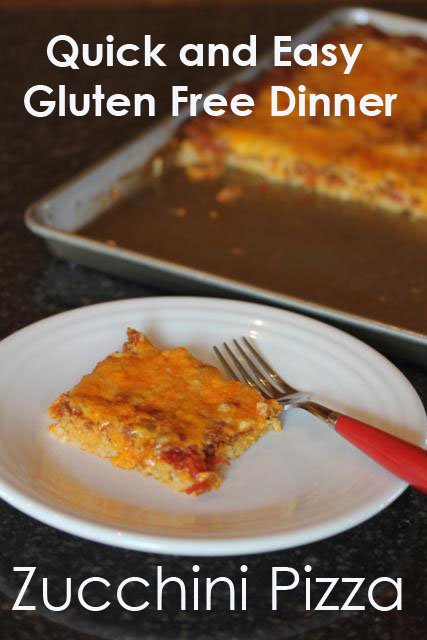 Zucchini Pizza is one of those recipes that I have been making for several years. It is great during the summer when zucchini is readily available from gardens and farmers markets. And it is easy to make gluten free.
We all need gluten free dinners that are quick, easy, and family friendly and this zucchini pizza is all of those things. Even my pickiest eater enjoys this for dinner.
Those of you that have read my main site for a long time will probably recognize this recipe. It is often on the menu plan during the summer when I have lots of zucchini coming from the garden. But this recipe is a recipe that I knew I wanted to update with the gluten free ingredients and share again for my Quick and Easy Gluten Free Dinners series.
If you have never tried zucchini pizza it is a must try. And it is another one of those recipes that no one will ever think twice about being gluten free.
Zucchini Pizza
4 cups peeled and shredded zucchini, drained and squeezed dry ( When I shred this I like to use the smallest side of my grater)
2 cups cooked rice
1-1/2 cups (6 ounces) shredded mozzarella cheese
1 cup grated Parmesan cheese
2 eggs
1 pound ground beef
1 medium onion, chopped
1-1/2 cups spaghetti sauce- Use either homemade or a jar of spaghetti sauce that is gluten free
1 teaspoon dried oregano
1/2 teaspoon salt
2 cups shredded cheddar cheese
In a bowl, combine zucchini, rice, mozzarella cheese, Parmesan cheese and eggs until well blended.

Press mixture into a greased 15-in. x 11-in. x 1-in. baking pan.

Bake at 400° for 20-25 minutes or until the crust is set and lightly browned.

Meanwhile, brown ground beef and onion; drain. Stir in spaghetti sauce, oregano and salt. Mix well.

Spoon beef mixture over zucchini crust. Sprinkle with cheddar cheese.

Bake at 400° for 15 minutes. Let stand 5 minutes before serving.