Print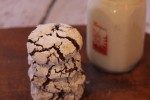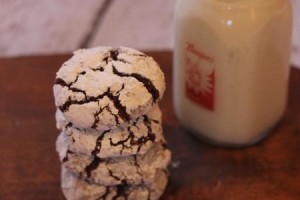 Gluten Free Chocolate Crinkle Cookies
Gluten free cookies that are so good that no one will know they are gluten free.
1

cup

baking cocoa

2

cups

white sugar

1/2

cup

vegetable oil

4

eggs

2

teaspoons

vanilla extract

1 1/4

cups

white rice flour

1/2

cup

sweet rice flour

1/4

cup

cornstarch

1/2

teaspoon

xanthan gum

2

teaspoons

baking powder

1/2

teaspoon

salt

1/2

cup

powdered sugar
In a mixing bowl combine cocoa, sugar, and oil.

Mix in the eggs one at a time. Add the vanilla.

In a separate bowl combine the white rice flour, sweet rice flour, cornstarch, xanthan gum, baking powder, and salt. Mix into cocoa mixture.

Cover dough and refrigerate for about two hours.

Preheat oven to 350 degrees. Roll dough into one inch balls. Coat each ball with powdered sugar. Put the dough on a cookie sheet and flatten the dough a little bit.

Bake in the oven for 10-12 minutes.

Leave the cookies on the cookie sheet for a few minutes then transfer to wire racks to cool.