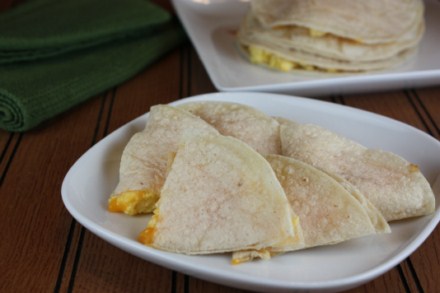 My favorite thing about quesadillas is how easy they are to make. You can easily prepare all the ingredients a head of time and just put them together when you are ready to cook and serve them.
For these breakfast quesadillas, I like to cook the meat the day before, or use leftover bacon or sausage. You can easily grate the cheese ahead of time, and even cook the scrambled eggs the night before. Doing this all ahead will make getting breakfast on the table so much easier.
My family also enjoys these breakfast quesadillas for dinner. We eat them often when I have breakfast for dinner on the menu plan.
Have you made breakfast quesadillas before?
Breakfast Quesdillas
6 eggs
1/2 lb of bacon or sausage, cooked and chopped
1 to 1 1/2 cups cheese
12 tortillas (We use corn, but flour would work well also.)
Salsa for serving
Whisk eggs with 4 tablespoons of water and cook in a pan, pushing the eggs around, and scrambling them.
Divide the cooked eggs between six of the tortillas.
Sprinkle the meat and cheese evenly over the eggs.
Top with remaining tortillas.
Cook in a skillet or fry pan. I either use an electric skillet or a cast iron pan, so I do not use any oil or butter, but you can use a little if you need to.
Cook for about 2 minutes or until slightly browned on one side and then flip over and continue cooking until slightly browned and cheese has melted.
Serve with salsa and enjoy!
This is the amount it takes to serve my family, but you can vary the amounts as needed.
This post linked to the $5 Dinner Challenge.