If you live in Oklahoma, you probably know all about barbecue bologna, also known as Oklahoma Prime Rib.
If you are not from Oklahoma, you might think I am a bit crazy for posting a recipe involving bologna. But my husband has been trying to get me to post about barbecue bologna for quite a while now and I finally decided it was time to share this Oklahoma specialty with all of you.
After all we would not want to keep the secret of barbecue bologna all to ourselves here in Oklahoma.
And actually, I have no idea if this is just an Oklahoma thing. I do know that I had not heard of it until moving to Oklahoma. And a lot of people here call it Oklahoma Prime Rib, so maybe it is just an Oklahoma thing.
Now, really some of you may think I am joking about barbecue bologna, but I am not. It truly is served and loved by many people here in Oklahoma. Almost every barbecue restaurant that you eat at will have it on the menu.
My first experience with barbecue bologna was years ago, at a really nice barbecue restaurant in Oklahoma City, where my in-laws took us to eat. I looked at the menu, with all the high end steaks and meat, and saw barbecued bologna, and could not believe bologna was on the menu. My husband and in-laws could not believe that I had never had, or even heard of barbecue bologna.
Well, let's just say that barbecue bologna is not something on many menus, or dinner tables, in Oregon. The only way I had ever had or seen bologna was the kind that you buy sliced in the package at the store. The kind you eat on a regular old sandwich. But I quickly learned that in Oklahoma they take their bologna seriously.
Now you will meet a few Okies that do not like this specialty, but most enjoy it. Last month we served this at a church picnic and I could not believe how popular it was. My husband thought that there would be plenty of meat with just barbecue pork and barbecue bologna, but I insisted we also do chicken because I was not sure many people would eat the bologna.
Well, was I wrong. I think more people ate bologna than anything else. Everyone Okay almost everyone loved it.
Now here is where I admit, that although my family loves barbecue bologna, I am not a huge fan of it. I have told my husband many times that bologna is bologna no matter how you serve it. But since the rest of my family, and most of our friends and family enjoy it, I do fix barbecue bologna a few times a year.
Now, after all that are you curious how it is done. It is actually really easy.
First you buy your bologna like this.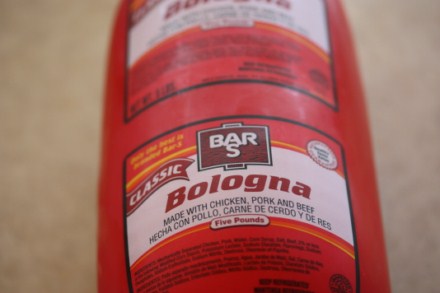 See, I told you we take our bologna seriously in Oklahoma. Right next to the rest of the lunch meats, and small packages of bologna, you can find a 5 lb round chunk of bologna.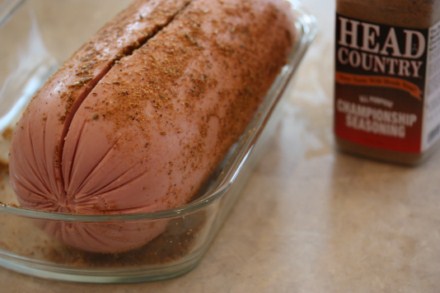 Unwrap the bologna and cut a slice into the bologna. You want to make a slice about 2/3 through the bologna, but do not cut it all the way through. This helps the smoke flavor go all the way through the bologna. Rub the bologna with a barbecue dry rub. I use Head Country because it is really good and it is a local Oklahoma company. You can easily use a different dry rub or even a homemade one.
Place the bologna on a smoker. I use my Weber smoker, but you can easily do this on any smoker type barbecue. Smoke for about 3 hours. We keep the smoker at about 225 degrees. And we have used various woods for the smoked flavor in this. So, just use your favorite.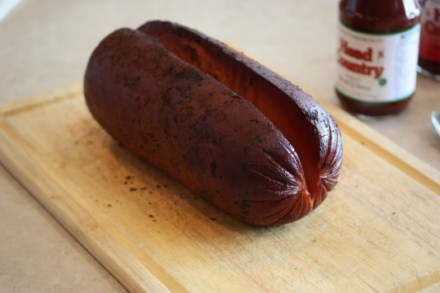 After 3 hours, the bologna will be nice and browned and have a smoked flavor. Remove the bologna from the grill and slice.
Serve with barbecue sauce and enjoy!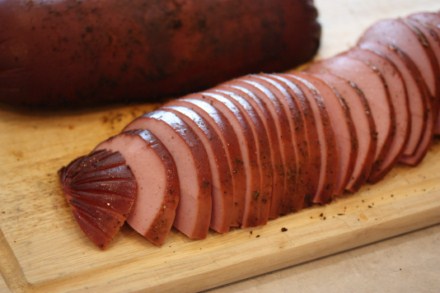 Most people eat this sliced served with sauce or served as a sandwich. We like to use Head Country because it is our favorite barbecue sauce and it is a local Oklahoma company.
Now, do you all think I am crazy? Or have you had barbecue bologna?