This Gluten Free Dairy Free Chocolate Bundt Cake is moist and delicious. It is also easy to make and no one will know it is gluten free.

My daughter and I have been having a lot of fun working on new gluten free recipes. She and I are becoming quite the team with converting and figuring out gluten free recipes.
It makes for some fun mother and daughter time. I love talking gluten free with her and how we can adapt recipes. She is my science and math child. She thinks logically and just gets it. Not that my other children don't, but she is definitely my math kid.
The fact that she gets math and science is quite convenient when working on recipes with me. She can quickly help me convert recipes and ratios and she tends to be the perfectionist in the kitchen because she gets that cooking is a science. She is my child that I am guessing will be out cooking and baking me in no time.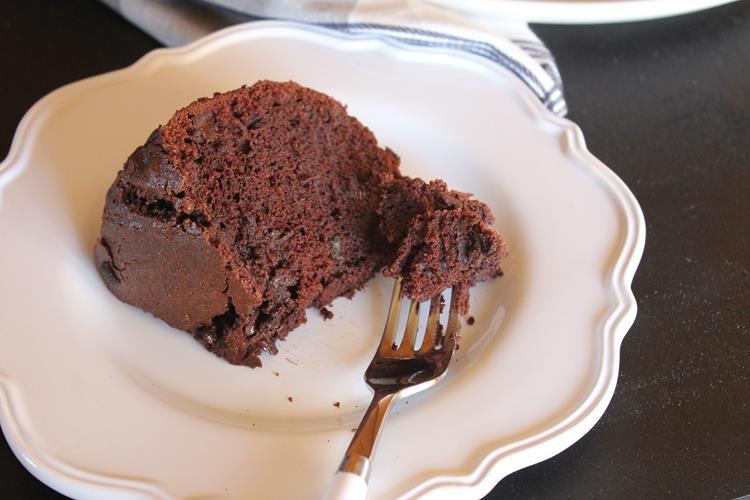 This gluten free dairy free chocolate bundt cake is one of our newest creations. It is so easy to make and because it is in a bundt pan it doesn't need any frosting. You can dust it with powdered sugar or a simple glaze, but you don't have to.
We made this when my mom was visiting and she loved it. She does not eat gluten free or dairy free and she was amazed at how good and moist this cake was for being gluten free. Gluten free cakes like this help prove that gluten free can be easy and delicious!
And if you saw my gluten free mayonnaise cake a few weeks ago, this is adapted from that recipe. I love it when I can use the same basic recipe in several ways.
Yield: 12 servings
Gluten Free Dairy Free Chocolate Bundt Cake
This gluten free dairy free chocolate bundt cake is so good that no one will know that it is gluten and dairy free.
Ingredients
1 cup white rice flour
½ cup sweet rice flour
½ cup cornstarch
1 teaspoon xanthan gum
⅔ cup unsweetened baking cocoa
1¼ teaspoons baking soda
¼ teaspoon baking powder
3 eggs
1⅔ cups sugar
1 teaspoon vanilla extract
1 cup mayonnaise
1⅓ cups water
1 cup gluten and dairy free chocolate chips
Instructions
Preheat oven to 350 degrees.
Grease a bundt pan well.
In a medium bowl combine rice flours, cornstarch, xanthan gum, cocoa, baking soda, and baking powder. Set aside.
In a bowl using a mixer, beat eggs, sugar, and vanilla until well combined. About 3 minutes.
Beat in mayonnaise.
Add ⅓ of the flour mixture. Mix just until combined. Add half of the water and mix just until combined. Add remaining and flour alternating between flour and water. End with flour mixture.
Stir in chocolate chips.
Spread batter into bundt pan.
Bake for 50-55 minutes or until toothpick inserted into the center comes out clean.
Nutrition Information:
Yield:
12 servings
Serving Size:
1
Amount Per Serving:
Calories:

440
Total Fat:

20g
Saturated Fat:

5g
Trans Fat:

0g
Unsaturated Fat:

14g
Cholesterol:

54mg
Sodium:

279mg
Carbohydrates:

62g
Fiber:

2g
Sugar:

36g
Protein:

5g