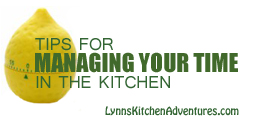 Cook once eat twice is similar to freezer cooking, but you don't freeze the food.
I often do this when I have a busy week and do not have a lot of food prepared ahead in the freezer.
When I say cook once eat twice, I do not necessarily mean you have eat the exact same thing twice. I am talking more about using the leftovers in a different way.
You can eat roast and potatoes one night, and roast beef sandwiches the next night. You can even make this stretch one more night by serving the left over roast with gravy over noodles or rice.
You can easily plan several meals in one week that contain ground meat. It does not take very much time at all to cook up a few pounds of meat at once. Then you can use it in casseroles, pasta dishes, and chili late in the week.
This same concept works with chicken. You can eat chicken and potatoes one night and use the leftover chicken in salads, soups, enchiladas, and many other things.
I often make a double batch of chili during the winter. We will eat it with cornbread the first night and then over potatoes the second night.
You can also use this same concept for breakfast or lunch items. I often cook up several pounds of bacon at one time. I will freeze some of it and use the rest throughout the week. We can use it for breakfast, but I can also use little bits of it here and there in soups and other things. It saves me so much time to have it cooked ahead as opposed to cooking a few pieces here and there.
This same idea can be used in many ways. When you look at your week and plan your menu take a minute to see how you can cook once and eat two or three times.
What is your favorite thing to cook once and eat two or three times.
If you are new to this series please check out my other posts in this series on managing your time in the kitchen.