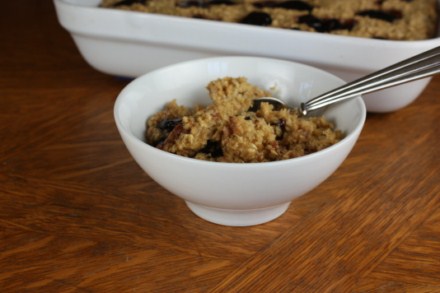 I hope you all are not getting tired of baked oatmeal recipes because I have another one for you today.
My peanut butter baked oatmeal recipe that I developed several years ago has been one of the most popular recipes on my site and today I have yet another version for you.
I have used that basic peanut butter baked oatmeal recipe to create several other versions like peanut butter and chocolate chip, pumpkin baked oatmeal, banana baked oatmeal, and even a version without peanut butter for my daughter who can no longer have peanut butter.
Well, today's recipe is a natural variation and was actually one of the first versions that I came up with.
What is the first thing many of us think of when we think of peanut butter?
Jelly of course. Peanut butter and jelly is a natural combination and it works perfectly in baked oatmeal. My kids love this!
Baked oatmeal is one of our favorite breakfasts and I hope your family enjoys them too!
Peanut Butter and Jelly Baked Oatmeal
3 cups quick cooking oats- I use gluten free quick oats
1/2 cup brown sugar
1 cup milk
2 tablespoons butter, melted
2 eggs
2 teaspoons baking powder
3/4 teaspoon salt
2 teaspoons vanilla
1/2 cup peanut butter ( this works well with soy butter or other peanut butter alternatives)
1/2 -3/4 cup jelly
Mix all ingredients together and stir well. Spread in a greased 9×13 pan.
Drop spoonfuls of jelly on top of the oatmeal. I have tried mixing the jelly into the batter, but we like it best just spooning it on top.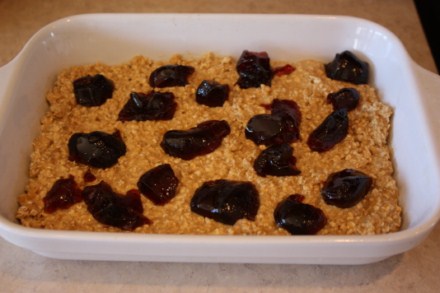 This way the jelly softens and melts into the oatmeal mixture as it cooks. But if you prefer you can mix it all together.
Bake at 350 for 20-25 minutes. If you like it a little crunchy on top cook for a few minutes longer.


It may not look pretty, but it tastes very good!
Serve with warm milk poured over top. Enjoy!
For more great recipes see Tasty Tuesday.