Gluten free eating, and food allergies, bring about so many changes to your life and in many ways things will never be the same.
I have come to realize that some foods may never be the same, but that is okay.
I have realized that pizza will never taste quite the same. Yes, I can get make a really good gluten free pizza crust, but it is still not quite the same. It is good, but different than a gluten filled pizza crust and I have come to realize that.
A gluten free doughnut or bagel is probably not going to be as good as the real thing, but that is okay. Just because it is not the same, does not mean that it cannot be good. The alternative to our favorite foods may not be exactly like what we used to enjoy, but it can still be good. And over the last few years I have tried hard to remember this.
One thing I will admit to really struggling with though is SunButter
. SunButter is a great product and I am so glad that there is a company like SunButter that makes life with nut and peanut allergies so much easier.
But here is where I have struggled, SunButter is not peanut butter. It does not taste like peanut butter and it has a different texture than peanut butter. There is a difference.
If you take a spoonful of each, you can tell the difference. And you can tell a difference in cooking. A SunButter cookie does not taste the same as a peanut butter cookie.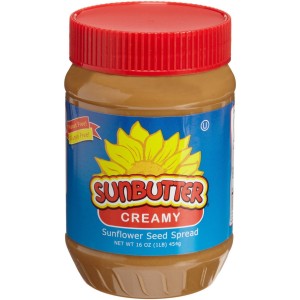 However, I have realized where I have gone wrong with SunButter
. I need to stop looking at SunButter as a replacement for peanut butter. For the last two years I have wanted SunButter to be peanut butter and it is not. SunButter is its own product and a good one at that. I realized recently that I need to stop wanting Sunbutter to be peanut butter and to let it shine for what it is, which is SunButter.
It is made from sunflower seeds, so it is going to taste like sunflower seeds do, this is not a bad thing, it is a fact. I am realizing how good Sunbutter can be. I just need to remember it is SunButter, not peanut butter.
As I told my kids the other day I am learning to embrace SunButter
. So, coming soon will be some very delicious recipes using SunButter.
Am I the only one that struggles with wanting some foods to be the same? What are your tips for overcoming that?