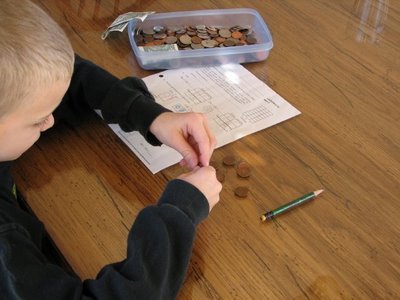 I am sorry but this post has nothing to do with food. It is about something funny that happened last night. I wanted to post this because I thought my family in OR would enjoy it. I also wanted to post it so that I would be sure to remember it. I hope you enjoy it too.
My girls came up with some pretty funny stories, sayings, and comments over the years. But my son seems to come up with the best ones. Maybe I cherish his sayings more because he is my third and I realize how sweet and innocent these comments are. I also now realize how short these sweet years are and that they are growing up all to fast.
My son loves anything cowboy and farming related. He has been into cowboyish stuff for the last few years. He says that he wants to be a cowboy when he grows up. His sisters keep trying to talk him into other things but his six year old mind is determined to be a cowboy.
So last night I was having a conversation with him as I put him to bed. I used to sing my son a song when I put him to bed. It was a silly kids song on one of our kids CD's. My son decided quite awhile ago that he was to old for this song and he does not like me to sing it to him. Occasionally though I will tease him by starting to sing it. Last night was one of those nights. He did not want me to sing it and here is how the conversation went with my son L.
L: Mom please
Me: But I want you to always remember our song
L: I don't want to.
Me: But you may want to sing it to your kids some day
L: I am never having kids
Me: What do you mean you are never having kids
L: I am not getting married
Me: Of course you will get married
L: No, I am NEVER getting married (he emphasized the never)
Me: Yes, you will
L: No
Me: Why don't you think you will get married
L: Because I want to be able to sleep in my barn
I gave up trying to convince him and I tried to keep from laughing. For some reason he wants to sleep in a barn. First of all, only a little boy would have dreams of one day sleeping in his barn. And second he is probably right that getting married would keep him from his dream of being able to sleep in his barn. For some reason he does not think a wife would want to or want him, to sleep in his barn. I have to agree with him. He is pretty smart isn't he.
But I did think it was cute that he had put so much thought into it. It is amazing how the minds of children work.
For now I will not spoil his dreams of being able to sleep in his barn someday. But my prayer will be that the Lord will one day ( a long time from now) bring him a Godly woman that will spoil his dreams of sleeping in his barn.