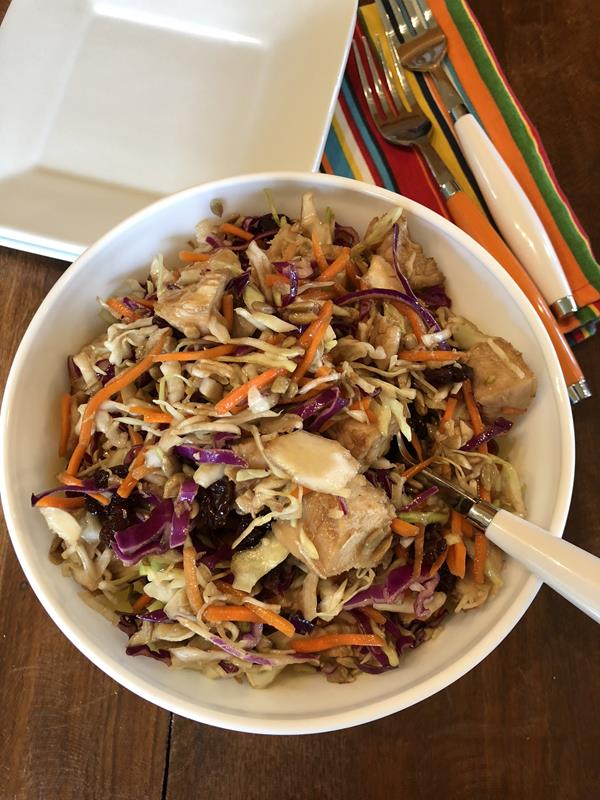 Asian Chicken Cabbage Salad is one of those recipes that I had a terrible time naming. I almost called it Asian coleslaw, but that didn't seem quite right.
I thought about calling it Asian chicken salad because it is salad like, but it isn't a typical chicken salad like my Italian Chicken Salad recipe.
Since it contained chicken and cabbage and had an Asian flavored dressing on it I went with Asian Chicken Cabbage Salad.
Cabbage is one of those vegetables that I think often gets neglected. Most people think of it for coleslaw, but nothing else. This salad is an example of how cabbage can be used in so many different ways.
Asian food can be a bit challenging for our family. Some of us eat gluten free and not all Asian food can be made gluten free. My oldest daughter also has a peanut, tree nut, sesame allergy, which means pretty much all Asian food is a no go for her.
So we eat our Asian type of food at home instead of at restaurants. Which is fine. It helps keep it safe for my family and homemade is usually cheaper and healthier than what a restaurant would serve.
This Asian Chicken Cabbage Salad is a copycat type of recipe of Asian salads that I have had. I found a few recipes online and adapted them for our tastes and needs.
Most of the online recipes for a salad like this contain a lot of dressing. I like salad dressing, but one of the recipes I tried called for 1 cup of oil and it ended up being a soggy mess.
After some tweaking and adjusting I ended up with a version that we love. The leftovers of this salad make a great lunch!
My version fits our food needs. I use sunflower seeds in it, but you could easily use chopped nuts instead. Most Asian salads like this also call for a little sesame oil.
Since we can't have sesame I don't add that to mine, but I think it would be delicious. If you can have sesame and have some sesame oil try a little bit of it added to this dressing. It would be delicious!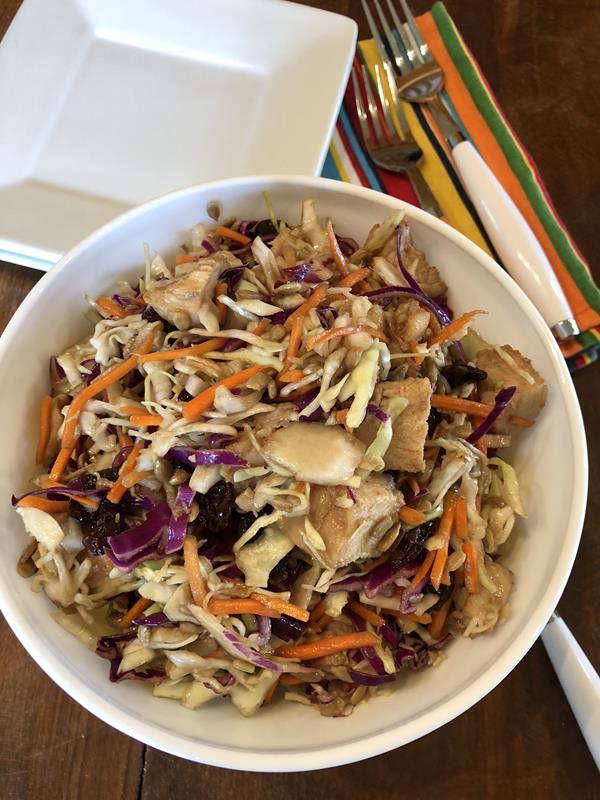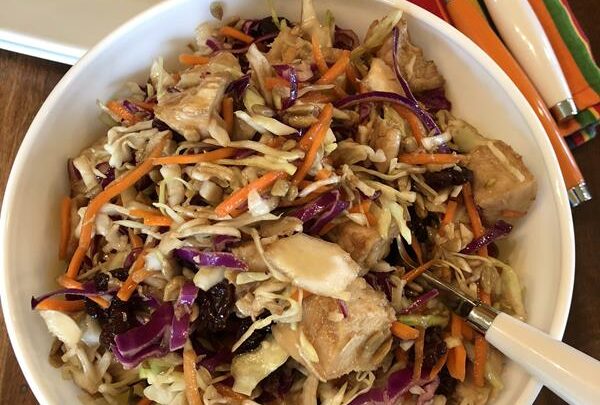 Asian Chicken Cabbage Salad
Asian Chicken Cabbage Salad is a quick and easy lunch or dinner.
Ingredients
2

1 lb bags

coleslaw mix

4

cups

chopped cooked chicken

1/2

cup

sunflower seeds

1 1/2

cups

dried cranberries ( Craisins)

1/2

cup

olive oil

1/4

cup

balsamic vinegar

2

tablespoons

soy sauce ( I use gluten free soy sauce)

2

cloves

garlic chopped

2

tablespoons

honey

1/2

teaspoons

ground ginger
Instructions
In a large bowl mix together cabbage, chicken, sunflower seeds, and dried cranberries. Set aside.

In a small bowl whisk together olive oil, balsamic vinegar, soy sauce, garlic, and ginger.

Pour dressing over salad and stir to combined. Eat immediately or refrigerate until ready to serve.