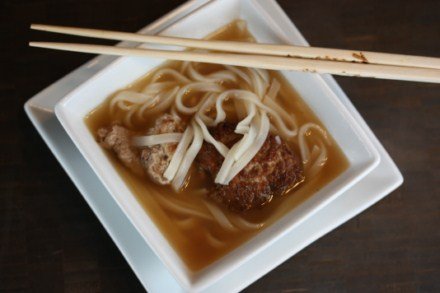 We love my asian noodle soup so well, that I knew I needed to come up with a few more soups that were similar to it, yet with differnt flavors. So today for Souper Monday I have an Asian meatball soup for you.
One of the things that I did was use rice noodles in place of egg noodles. We like rice noodles, so it worked great for us, but you could easily use egg or another type of noodle in this.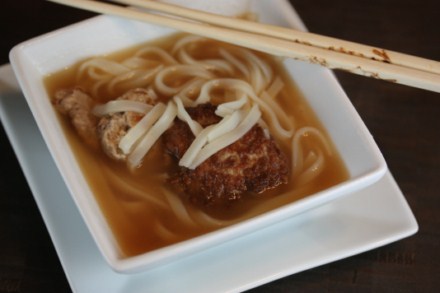 Asian Meatball Soup
1 lb ground pork
2 egg yolks
2 tablespoons cornstarch
2 tablespoons minced ginger, divided
4 teaspoons soy sauce, or to taste
1 tablespoon oil
2 tablespoons rice vinegar
5 cups chicken broth
1/2 cup water
1 cup (or so) of cooked noodles, I used rice noodles, but you can use regular pasta
In a bowl combine pork, eggs, cornstarch, 1 teaspoon ginger, and 1 teaspoon soy sauce. Mix together and roll into 3/4 inch meatballs.
In a larger pan heat oil and brown meatballs.
Add vinegar and remaining ginger to that pan and cook for 1 minute or so. Add broth, water, and remaining soy sauce.
Cover and bring to a boil over high heat. Reduce heat and cook until meatballs are done.
Stir in cooked pasta and cook until heated through.
Serve with additional soy sauce if desired.