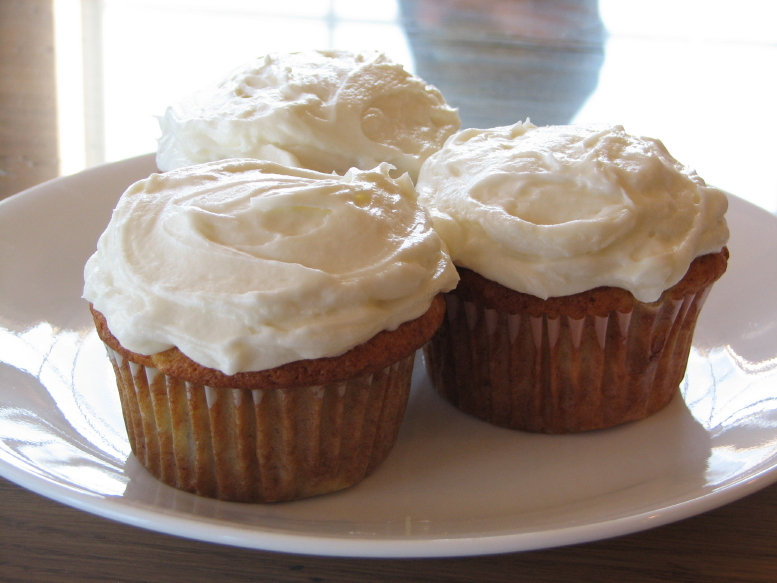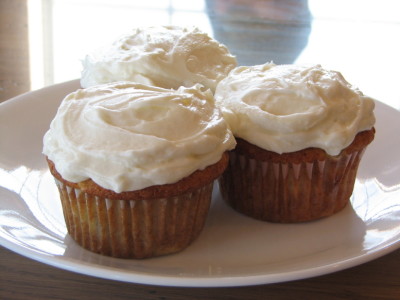 I originally posted this recipe in March of 2008. That was just a few weeks after I started this site. I decided it would be a good recipe to repost since I had very few readers back then. When I posted this recipe I actually posted only the recipe and nothing else. No description and no talking about it, just the recipe. Today, I thought I would post at least a little more information on them, because I really do like them. In fact, I need to make these again soon because my family loves these.
These are really good with frosting as a cupcake. The frosting is a really good and unique honey frosting that works on lots of other cupcakes and cakes. The cupcakes are good without the frosting, which makes them more muffin like. I have also made this recipe using part whole wheat and it worked well.

Banana Cupcakes with Honey Frosting
1 1/2 cups all purpose flour
3/4 cup sugar
1 teaspoon baking powder
1/2 teaspoon baking soda
1/4 teaspoon salt
1/2 cup butter, melted
1 1/2 cups mashed bananas
2 eggs
3/4 teaspoon vanilla
Makes 12
Preheat oven to 350 degrees. Line muffin pan with liners.
In a bowl mix flour, sugar, baking powder, baking soda, and salt.
Mix in butter, mashed bananas, eggs, and vanilla. Stir just until incorporated.
Spoon better into muffin pan lined with paper liners.
Bake 25-28 minutes or until done.
Cool completely.
Honey Frosting
1 3/4 cups powdered sugar
1/4 cup cream cheese softened
1/2 cup butter, softened
1 1/2 tablespoons honey
Mix all together, beating for about 5 minutes. You want it light and fluffy.
Frost cupcakes.

Adapted from Martha Stewart.