Every year we plant green peppers in our garden and most years they do great. This year was no exception. I have had a ton of green peppers and am getting creative with ways to use them.
I have been freezing some of them and will share some tips on that soon, but we have also been using them a lot in things like fajitas.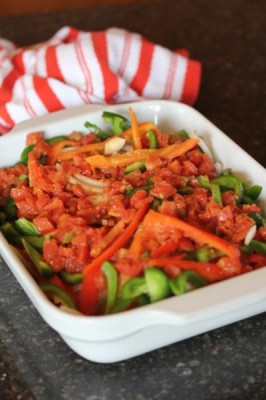 I recently changed up fajita night a little bit by making them in the oven. The texture is a little different than cooking them on the stove, but we really enjoyed them.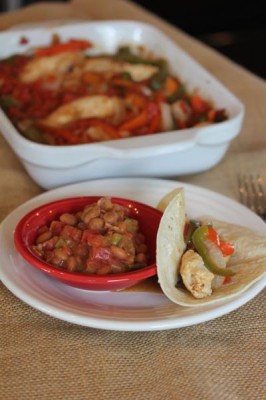 I loved how easy cooking them in the oven was. I could just put them in the oven and work on other things while they cooked. They did have a little more liquid when cooking them in the oven, but we simply used a slotted spoon when serving them to drain some of that off and it worked great.
Baked Chicken Fajitas
2 pounds boneless skinless chicken breast or tenders

1 can diced tomatoes with green chilies, drained

1 onion cut into strips or diced

1 green pepper, sliced

1 red pepper, sliced

1 teaspoon chili powder

1 teaspoon ground cumin

1 teaspoon salt

1 tablespoon cornstarch

1/2 teaspoon garlic powder

1 teaspoon paprika
Preheat oven to 400.

Place chicken in a 9×13 pan.

Place onions and peppers on top of chicken.

In a bowl combine tomatoes, spices, and cornstarch. Spread over chicken and onions.

Bake covered for 20 minutes. Uncover and bake 10-20 more minutes or until chicken is done. (Chicken tenders will take less time than chicken breasts)

Serve on tortillas.