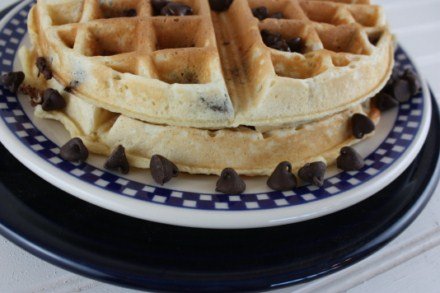 If your house is anything like mine I am guessing that you often have an over ripe banana or two sitting on the counter.
I have one daughter who love bananas and will eat hers when they look so bad that no one else will touch them. However, the rest the family prefers our bananas a bit on the green side, so we like to use our overripe bananas in baked goods and other things.
We often use them in smoothies, in cookies, and in banana bread and bars (gf version coming soon to my allergy site), but I am always looking for new ways to use up over ripe bananas.
I recently decided that banana waffles sounded good. I searched through some cookbooks and also online and was surprised to find that there were not many recipes for banana waffles.
The recipes that I did find contained sliced bananas. Although I am sure those would be good, I was looking for something to use my over ripe bananas in, so I wanted to use mashed bananas in my waffles.
After looking for awhile I found a recipe that I thought would work with a few adjustments.
I decided to try both a regular version of these waffles and a gluten free version. This way both the regular eaters and the gluten free ones in our family would be happy.
We loved both versions. Today I am sharing the regular version, but you can find the gluten free version on my allergy site.
When I made these for lunch one day last week, I decided to add in some chocolate chips. Although this made them a little less healthy my kids thought it was a fun treat to have chocolate chips in their waffles.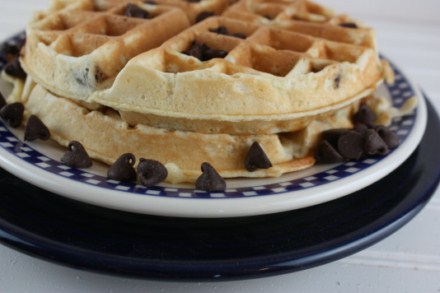 Banana Waffles
2 cups all-purpose flour ( I think you could easily use part whole wheat)
2 tablespoons sugar
1 tablespoon baking powder
1/2 teaspoon salt
1 3/4 cups milk
1/2 cup mashed banana
6 tablespoons oil
2 large eggs
3/4 chocolate chips (optional)
Combine dry ingredients.
Add remaining ingredients, except chocolate chips, and whisk together.
Stir in chocolate chips.
Let batter sit for 5-10 minutes.
Stir and cook on preheated waffle iron.