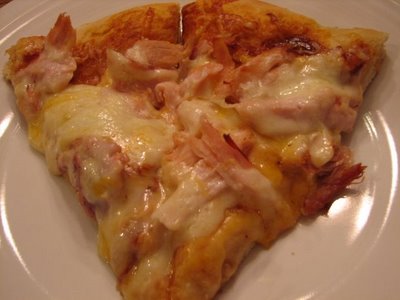 We like pizza in our house. We eat it quite often, but I like to change it up by doing different kinds. I usually make this using chicken, but since I had some turkey leftover from Thanksgiving, I used turkey. We had this last night for dinner and it turned out really good with turkey.
I know some of you may be thinking barbecue chicken pizza. But it really is good. Several pizza places in our area serve a pizza like this and I figured out how to do an at home version. I think I got pretty close.
Here is what I do. I use my pizza crust but you can use your favorite crust. I use our favorite barbecue sauce instead of pizza sauce. Be careful not to use to much. Barbecue sauce is stronger than pizza sauce, so it does not take as much. I use a mixture of grated cheddar and monterey jack cheese. I place half of the cheese on top of the sauce and then I layer the chicken/turkey on top of that. I then place the rest of the cheese on top. Bake at 425 degrees for about 15 minutes or until done and enjoy.